The semiotic approach in analyzing contemporary graphic text
Keywords:
semiotic approach, graphic text
Abstract
With a great diversity in the curriculum contemporary monetary and visions, and development that hit the graphic design field, it has become imperative for the workers in the contemporary design research and investigation in accordance with the intellectual treatises and methods of modern criticism, because the work design requires the designer and recipient both know the mechanics of tibographic text analysis in a heavy world of texts and images varied vocabulary and graphics, and designer on before anyone else manages the process of analysis to know what you offer others of shipments visual often of oriented intended from behind, what is meant, in the midst of this world, the curriculum Alsemiae directly overlap with such diverse offerings it best suited for the analysis of what sends the text of the encryption in its structure, which is a comprehensive holistic approach operates with knowledge of modern, contemporary and text Graphic carries in its contents is much that should be studied and searched, that this world is a result, the world of graphic excellence, and the requirements of the current research sounding triggers graphic text Gore according to a method Semiaia clear entrances.
References
Abu Zaid, N. H. (2005). he Problems of Reading and Mechanisms of Interpretation. The Arab Cultural Center.
Ahmed, Y. (2005). Semiotics and Communication. Signs Magazine(24), 38.
Al-Fotouh, A. (1986). Symbol and Symbolism in Contemporary Poetry (2nd ed.). Egypt: Dar Al-Maaref.
Al-Murabet, A. W. (2010). General Semiotics and the Semiotics of Literature for a Comprehensive Perception. Algeria: The Arab House of Science in Beirut and Al-Kifar Publications in Algeria.
Al-Rifai, M. K., & Hallaq, B. G. (n.d.). press direction.
Ayachi, M. (2004). Labeling and Text Science. Beirut, Lebanon: The Arab Cultural Center.
Benkrad, S. (2005). Semiotics (Concepts and Applications). Syria: Dar Al-Hiwar.
Daniel, C. (2008). Foundations of Semiotics (1st ed.). (T. Wahba, Trans.) Beirut, Lebanon: Center for Arab Unity Studies.
Essais, s. (1968). signification au cinema (Vol. let ll). Paris: Klincksiek.
Guy, G. (1992). de limage semiologique aux discursivites. paris: le temps- ldune photo.
Hamdawi, J. (1997). Semiotics and Addressing, World of Thought (Vol. 25). Kuwait.
Hanoun, M. (1987). Lessons in Semiotics (1st ed.). Casablanca: Dar Toubkal Publishing.
Heritage, A. (2003, 7 1). Publications of the Arab Writers Union. Arab Heritage(91), p. 68.
Ibrahim, A. A.-S. (1998). Documentation and the Communication Revolution and the Challenges of the Twenty-first Century. (90), 73.
Jean, C. C. (2008). semiotics, origins, rules, and history (1st ed.). (R. b. Malik, Trans.) Amman: ajdalawi Publishing and Distribution House.
John, B. (1987). Introduction to Mass Communication (1st ed.). Beirut: The Arab Institute for Studies and Publishing.
Jonathan, A. a. (2000). The Origins of Modern Linguistics and Signs (1st ed.). (E. E.-D. Ismail, Trans.) Cairo: Academic Library.
Robert, S. (1994). semiotics and interpretation (1st ed.). (S. Al-Ghanimi, Trans.) Beirut: the Arab Institute for Studies and Publishing.
Samia, M. J., & Muhammad, G. A. (1984). Mass Communication in Modern Society. Alexandria: University Knowledge House.
Samir, M. (2008). Press Direction (1st ed.). Egypt: Dar Al-Fajr for Publishing and Distribution.
Saussure, F. (1986). Lectures on General Linguistics. the Algerian Foundation for Printing.
Shaibani, A. Q. (n.d.). General Semiotics Its Foundations and Concepts.
Thought. (2007, 7 1). Arts and Letters. World of Thought Magazine, 35(3), p. 30.
Umberto, E. (2005). Semiotics and the Philosophy of Language. Beirut: The Arab Organization for Translation.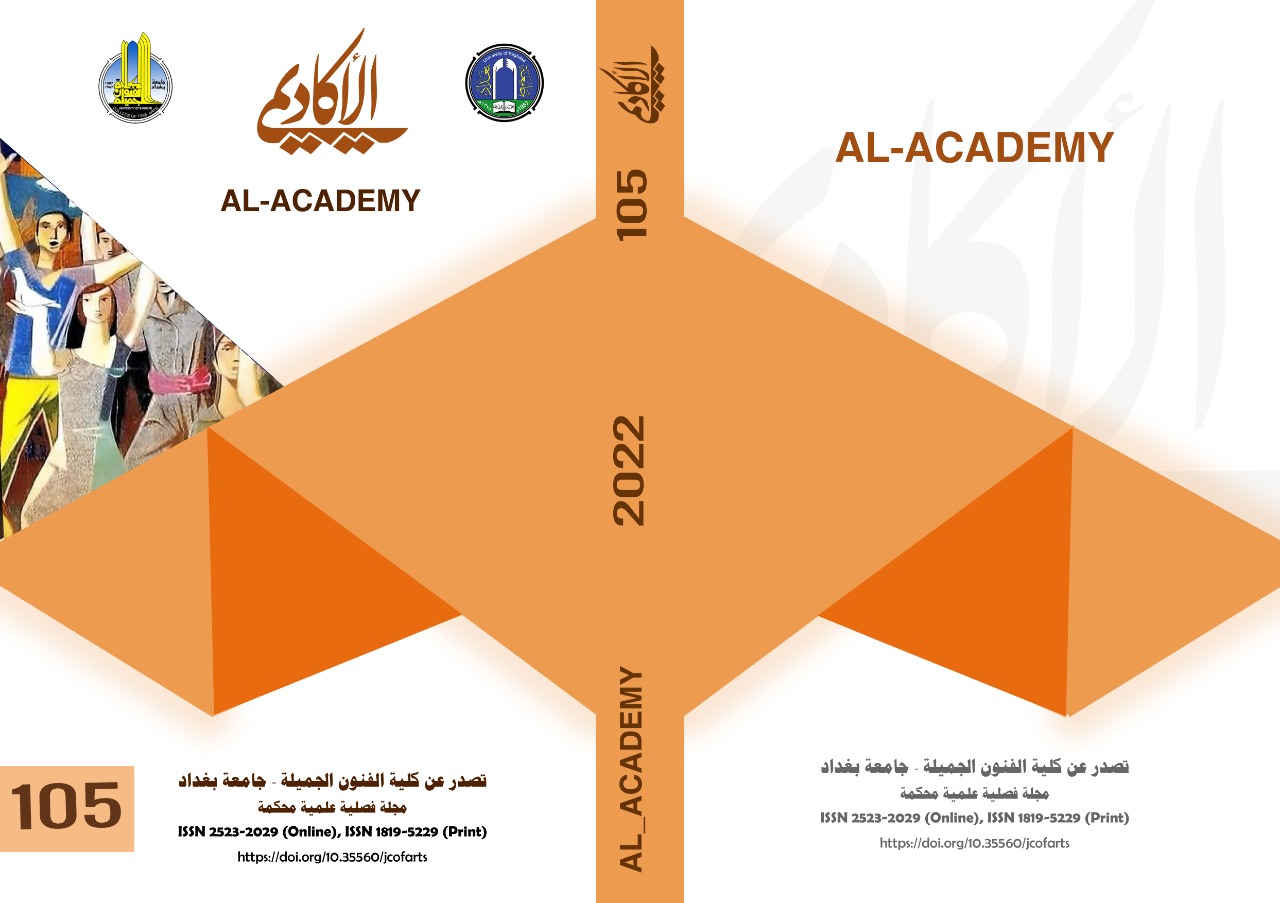 How to Cite
jirjees neama, A. (2022). The semiotic approach in analyzing contemporary graphic text. Al-Academy, (105), 21–42. https://doi.org/10.35560/jcofarts105/21-42
License
Copyright (c) 2022 Akram jirjees neama
This work is licensed under a Creative Commons Attribution 4.0 International License.