Role Of the Interactive Public Sculpture in Increasing Physical Activity
Keywords:
Interactive sculpture, public places, physical activity.
Abstract
The study investigates the possibility of utilizing public interactive sculptures to enhance physical activity in Saudi Arabia. The paper uses a descriptive-analytical methodology to identify the characteristics of interactive sculptures promoting physical activity in public areas as follows: The size and space of the work area are appropriate to the type of physical activity that is achieved, and the importance of the work site in the city and its relation to the surrounding space, identifying participants at the same time and their relationship to ensure safe interaction, as well as the relationship between the esthetic and intellectual concept of working in the community. The study concludes that three technical proposals were presented for interactive sculpture works to be carried out in public places in Riyadh, which allows the public to practice some physical activity when interacting with the work units, thus contributing to enhancing the practice of the community members of physical activity. Within an urban environment, works of Art derive their artistic idea from the Saudi society's symbolism, values, and culture.
References
AlDowayan, M. (2020). now-you-see-me-now-you-dont. Retrieved from manaldowayan: https://www.manaldowayan.com/now-you-see-me-now-you-dont.html
Al-Hazzaa, H. M. (2018, November - December). Physical inactivity in Saudi Arabia revisited: A systematic review of inactivity prevalence and perceived barriers to active living. International Journal of Health Sciences Vol. 12, Issue 6, pp. 50- 64.
Archdaily. (2011). tiger-turtle-magic-mountain-heike-mutter-ulrich-genth. Retrieved from archdaily: https://www.archdaily.com/186373/tiger-turtle-magic-mountain-heike-mutter-ulrich-genth
Baum, M. (2004, Mar). The Healing Environment: Without and Within. Journal of the Royal Society of Medicine, pp. 145–146.
Carter, C. (2010, 1 1). Toward an Understanding of Sculpture as Public Art. International Yearbook of Aesthetics, pp. 161- 179.
Chicago, O. O. (2017, 4 6). Mayor Emanuel Announces Millennium Park is Now the #1 Attraction in the Midwest and Among the Top 10 Most-Visited Sites in the U.S. Retrieved from An official website of the City of Chicago: https://www.chicago.gov/content/dam/city/depts/mayor/Press%20Room/Press%20Releases/2017/April/Millennium_Park_Tourism.pdf
Council, P. A. (2014). Why Public Art Matters. http://www.americansforthearts.org/.
Festival, L. D. (2013, 9 14). Alex de Rijke: Endless Stair. Retrieved from London Design Festival/events/endless-stair: https://www.londondesignfestival.com/events/endless-stair
Foundation, S. B. (2022). Sports Boulevard. Retrieved from https://sportsboulevard.sa/en
Foundation, S. B. (2022). SPORTS BOULEVARD. Retrieved from https://sportsboulevard.sa/ar/
Hein, J. (2012). Appearing Rooms Forrest Place. Retrieved from jeppehein.net: https://www.jeppehein.net/project_id.php?path=publics&id=192
(2019). Household Sports Practice Survey Bulletin 2019. General Authority for Statistics GASTAT .
Kluszczynski, R. (2010, October). Strategies of interactive art. Journal of Aesthetics and Culture.
Kostrzewska, M. (2017, Novembar 5). Activating Public Space: How to Promote Physical Activity in Urban Environment. IOP Conf. Series: Materials Science and Engineering, p. 245.
Lewin, J. (2008). the-pool. Retrieved from jenlewinstudio: https://www.jenlewinstudio.com/portfolio/the-pool/
Milbrand, C. (2013). Casey Milbrand Design, Inc. Retrieved from CITYHEART_BUFFALO, NY: http://www.caseymilbrand.com/cityheart1
Moszynska, A. (2010). Sculpture Now London. London: Thames and Hudson World of Art.
Sarriugarte-Gómez, I. (2014, 10 17). Public Sculpture in the Biscay Town of Leioa. Arte, Individuo y Sociedad 26(3) 419-436, p. 420.
Statistics, G. A. (2019). Household Sports Practice Survey. Retrieved from General Authority for Statistics: https://www.stats.gov.sa/sites/default/files/household_sports_practice_survey_2019_ar.pdf
Stephen Clift and Paul M. Camic. (2015). Oxford Textbook of Creative Arts, Health, and Wellbeing: International perspectives on practice, policy and research. Oxford UK: Oxford University Press.
Villeneuve, J. (2016). LOOP Participatory installation on tour. Retrieved from Jonathan Villeneuve: http://jonathan-villeneuve.com/en/travail/loop-2016/
Vision, S. (2018). The Quality of Life Program. Retrieved from https://www.vision2030.gov.sa/ar/v2030/vrps/qol/:
Walsh, P. (2018). Five Reasons Why Public Art Matters. Washington, DC : americansforthearts.
Zhao Shuwen, Kim chool-soo. (2021). Applications of Interactive Installations in Public Spaces. PSYCHOLOGY AND EDUCATION (2021) 58(5), pp. 2947-2952.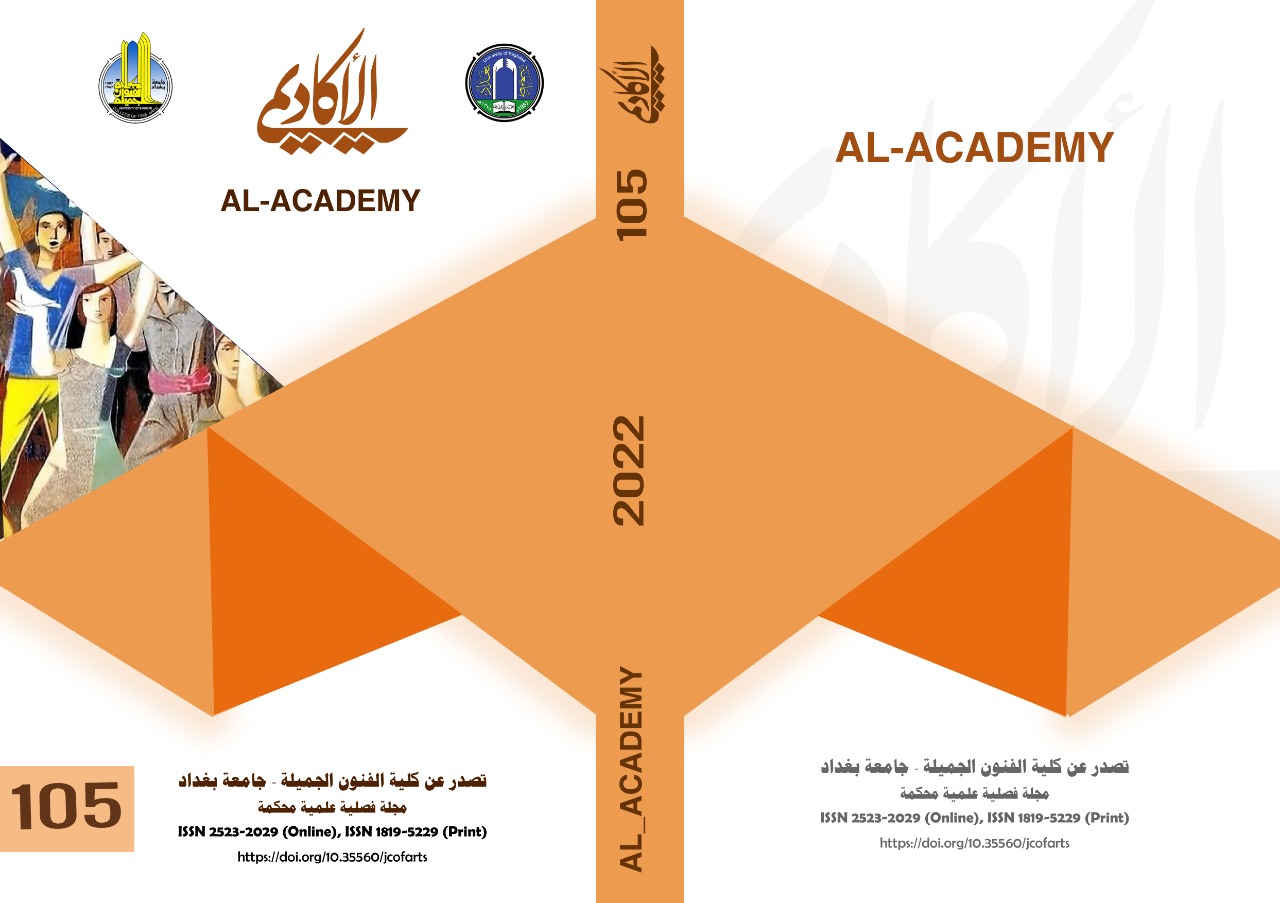 How to Cite
Gharsan Alshehri, H. . (2022). Role Of the Interactive Public Sculpture in Increasing Physical Activity . Al-Academy, (105), 57–80. https://doi.org/10.35560/jcofarts105/57-80
License
Copyright (c) 2022 Huda Gharsan Alshehri
This work is licensed under a Creative Commons Attribution 4.0 International License.