The Relationship Between Using Diverse Materials to the Intellectual Context's in the Art of Contemporary Ceramic
Keywords:
Contrast of materials , Intellectual context , Contemporary ceramic
Abstract
The use of different materials in the art of ceramics is considered a new form of contemporary philosophical trends. That was introduced to art as a result of societal changes and transformations and rapid technological development. And it plays a very essential part in the beauty of the artistic structure. The contrast of using different materials in ceramics is considered a part of the old historical achievements since the art of ceramics used to follow strict standards. Which does not apply to contemporary ceramic, Because recently, it has become free from any religious and social control and created a whole new intellectual context, heading to new horizons in which it works with the newly added materials as a strategy to ensure the activation of all sensual, structural, and aesthetic aspects. And ensures the importance of the artist's individuality, and realizes their identity and the essential part they have in the exploratory practices and the growth of the technical performance, as well as inventing new artistical and structural material. As a whole, this illustrates the development of the intellectual context of the artist, the art piece, and the art admirers.
The subject of this research aims to reveal the improved aspects of the intellectual context, that came as a result of the contrast of materials and clays, and demonstrate the current status of contemporary ceramic, And its remarkable ability to continuously add to the shape and significance
References
Holy QuranI, ALOmran. (190).
Wisegeek. (2017, December 6). Retrieved 11 27, 2019, from What is Resin?
Abdelghani, S. M., Bakr, M. L., & Hassan, H. S. (2020). Material Technology and Its Role in Developing Plastic Performance in Contemporary Portrayal. Journal of Specific Education Research, 581 - 608.
Abdullah, A. H. (2021). Dialectic Relationship Between Materialistic and Intellectual Structural. Journal of Architecture, Arts and Humanities , 211 -229.
Aeckert, l. (n.d.). lauraeckert. Retrieved 11 27, 2019, from Texte & Medien.
Aladdin, M., & Yassin, S. (2001). Theccommunicative Action in Architecture. Iraqi Journal of Architecture, 120 -133.
Al-Kawaz, B. A., & Al-Zubaidi, K. N. (2018). The Features of Style in Roberto Rauschenberg'works. Basra Arts Magazine, 37- 61.
Al-Nasiri, T. (2006). Unity and Diversity in Iraqi Contemporary Ceramics. Jordan: Majdalawi Masterpieces.
ART TERM. 15 9,, 2021، Tate: https://www.tate.org.uk/art/art-terms/p/postmodernism
Attia, M. (2002). Criticism of Cassical Arts to Postmodernism. Alexandria: Monchaat Almaref Foundation for Printing and Publishing.
Catharsis, M. (n.d.). Royal Gollege Of Art. Retrieved 11 27, 2019, from Emily Gardiner.
Commandeer, U. (2016). Ursula Commandeer. Retrieved 3 7, 2019, from Huboshow.
Eco, U. (2013). Open Impact. (A. R. Ali, Trans.) Latakia: Dar Al-Hwar for Publishing and Distribution.
Lachaert, S. (n.d.). christina schou christensen's ceramics at galerie sofie lachaert. Retrieved 11 27, 2019, from designboom.
Mahfouz, W. M. (2015). Art as a Semiotic Fact: Semiotics from Language to Art. Annals of the Faculty of Arts, Ain Shams University, 407 - 440.
Mustafa, A. (2001). The Sgnificance of Form: A Study in Formal Asesthetics and Reading in The Art Book. Cairo: Hendawy Foundation.
Mustafa, B. (2017). Postmodern paths. Cairo: Hindawi Foundation.
Saadani, M. A. (1998). Artistic photography in Mahmoud Hassan Ismail's poetry. Alexandria: Monchaat Almaref.
Saliba, J. (1982). The Philosophical Dictionary in Arabic, French, English and Latin Words. Beirut: Dar al-Kitab al-Lubnan.
Sebastian, S. (2017). Freeyork. Retrieved 11 26, 2019, from Incomplete: A Norwegian Sculptor Captured the Whimsical and Humble Personalities of Children.
Shaker, R. (2019). Development the Concept of Freedom in Contemporary American Thought. IRAQI JOURNAL OF MEDICAL SCIENCES, 371 - 404.
Spivey, V. B. (n.d.). Contemporary Art, an introduction. Retrieved 3 9, 2021, from khanacademy: https://www.khanacademy.org/
Taha, A. S. (2016). Imagination and Ixperimentation in Contemporary Ceramics. Journal of University of Babylon, 1239 - 1410.
Wahba, M. (2007). The Philosophical Dictionary. Cairo: Dar Quba.
Zarwak, A., & Zrougui, A. (2017). The Contrast Between The Aesthetic Structure And The Argumentative Relationship. Fasel AL-Khetab, 155 -166.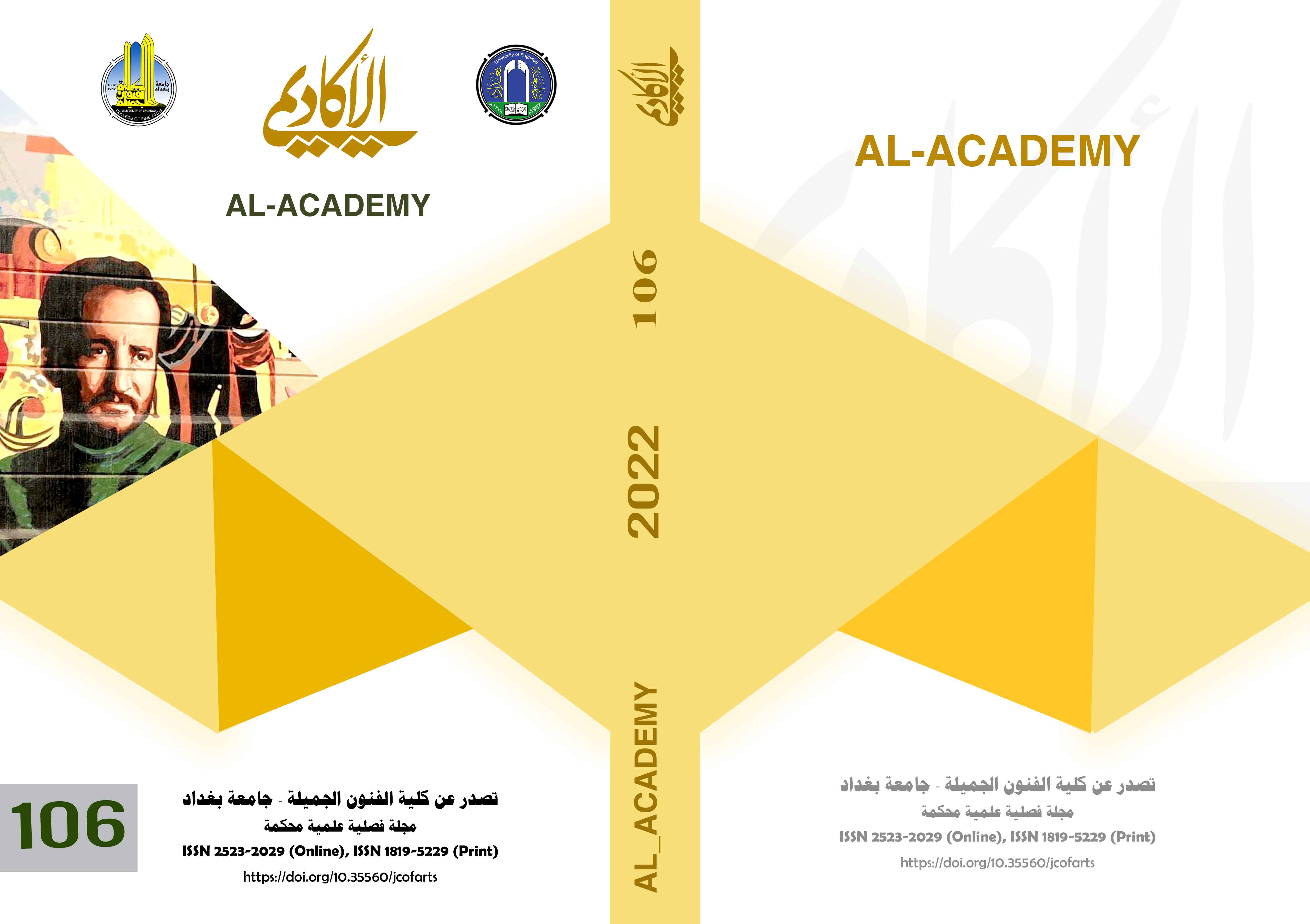 How to Cite
Saleh Moraished, L., & Saleh Al-Saleh, M. (2022). The Relationship Between Using Diverse Materials to the Intellectual Context's in the Art of Contemporary Ceramic. Al-Academy, (106), 253–270. https://doi.org/10.35560/jcofarts106/253-270
License
Copyright (c) 2022 Lamia Saleh Moraished, Manal Saleh Al-Saleh
This work is licensed under a Creative Commons Attribution 4.0 International License.