Geometrical Foundations of Shape in Structural Design of Contemporary Ceramic Pots "The artist "IBRAHIM SAEED" is a model"
Keywords:
shape, geometry, design, construction, pots, ceramics.
Abstract
Each era has advantages in terms of innovation and development in form, technology, style, and design in ceramic vessels, both at the level of functional and aesthetic performance, so this study aimed to demonstrate the importance of geometrical foundations in the design structure of contemporary ceramic vessels, and also to reveal the constructive skills in The structure of the ceramic figure.
The researchers used the descriptive analytical approach to suit the nature of the study, and they described and analyzed the ceramic works in terms of geometric shape systems, elements and foundations of design in construction, formal diversity in the general design of ceramic vessels, and references and sources of artwork. In addition to the above, the researchers reached a set of results one of the important:
The diversity in the structural design of the geometric form confirmed the distance from inertia by emphasizing the linear and expressive values, which contributed to the enrichment of the ceramic vessels. And the interest in monochrome in the geometric design of the earthenware, which enhanced the formal expression and unity in the structural design. The emphasis is on two-part geometric shapes, emphasizing mass and emptiness, and the balance between interior and exterior spaces. And also the distance from the traditional style, through geometrical modification and formation, and the creation of contemporary ceramic shapes through the plurality of ceramic pieces in one structural composition and their translation in the language of shapes in the final achievement of contemporary ceramic vessels, And focus on the phenomenon of structural reflection in the contemporary design of the form
References
Abdel Aziz, and others. (1973). Dictionary of Basic Technological Terms, German Democratic Republic, B.T., p. 239.
Al-Awawda, Hassan Mahmoud Issa. (2009). The philosophy of Islamic moderation and abstraction in Islamic architecture, a case study (decorative units), a master's thesis, An-Najah National University.
Al-Farahidi, Al-Khalil bin Ahmed. (2007), Al-Ain, Al-Hilal House and Library.
Alloush, Saeed. (1985). A Dictionary of Contemporary Literary Terms, Lebanese Book House, Beirut, Lebanon, 1st Edition.
Al-Muqri, Ahmed Al-Fayoumi (2016). The luminous lamp in the strange explanation of the great. House of Knowledge, Cairo.
Al-Nashar, Abdul Rahman. (1978). Repetitions in Selections from Modern Painting and Benefiting from It Educationally, unpublished Ph.D. thesis, Faculty of Art Education, Helwan University.
Alwan, Muhammad. (2016). Structural characteristics of shape in Turkish ceramics, Babylon University, College of Fine Arts, Nabu Magazine, for Studies and Research, No. 13.
Al-Zamakhshari, Jarallah Mahmoud. (1998). Interpretation of the Scout on the facts of the download and the eyes of gossip, Al-Babi Al-Halabi Press, Cairo, Egypt..
Atta, Abdel Aziz. (1984). The Role of the Interior Space as an Effective Element in Contemporary Ceramics, Master Thesis, Faculty of Art Education, Helwan University.
Brunette, Charles. (1974). The Mental Image for Human Behavior Dodeen "itutchin son, and Ross, Inc.
Dewey, John. (1963). Art Experience, T: Zakaria Ibrahim, Library of Egypt, Cairo.
Hornby, A.S.(1975) Oxford Dictionary. Oxford University press, London.
Ibn Manzoor, Jamal al-Din Muhammad. (1999), Lisan al-Arab, Volume 1, Volume 5, Publishing House for Printing, Beirut, B.T.
Ivins, J, O, W, M. (1964). Art and Geometry, Doverpab.Inc, Network.
Knobler, Nathan. (1981). Vision Dialogue, Introduction to Art Tasting and Aesthetic Experience, translated by Fakhri Khalil, Dar Al-Mamoun for Translation and Publishing, Baghdad.
Maalouf, Father Louis (1986). Al-Munajjid in the Language of Media, Oriental Library, Dar Al-Mashreq, Beirut, Thirtieth Edition.
Mahmoud, El-Zamakhshari. (1988). The basis of rhetoric, Dar al-Kutub al-Ilmiyya, Beirut, Lebanon, 1st edition.
Rwkwert, j. (1981). On Adams House in Paradise, the Mtt Rests. Cambridge, Landan.
Samman, Samia Ibrahim. (1997). Clothing Encyclopedia, Alexandria University, Egypt, Faculty of Agriculture.
Scott, Robert Gillam. (1980). The Foundations of Design, translated by Mohamed Ibrahim, Nahdet Misr House for Printing and Publishing, Cairo.
Shehadeh, Amna, 2015, Geometrical Structure in Contemporary Arab Sculpture, Damascus University, Faculty of Fine Arts, Sculpture Department.
Twig, Imad Hammoud. (2018). Geometrical tendency in the work of the potter Akram Nagy. University of Kufa, College of Education, Journal of the College of Education for Girls for Human Sciences, Issue 22.
Zamakhshari. Mahmoud (1988). The basis of rhetoric, Dar al-Kutub al-Ilmiyya, Beirut, Lebanon, 1st edition.
Ibrahim, Hani Farouk. (2000). Islamic windows, as a source of enrichment for ceramic shapes, Master's thesis in Art Education.
https://www.yossimilo.com/content/1-artists/24-ibrahim-said/2-press/00-selected-press.pdf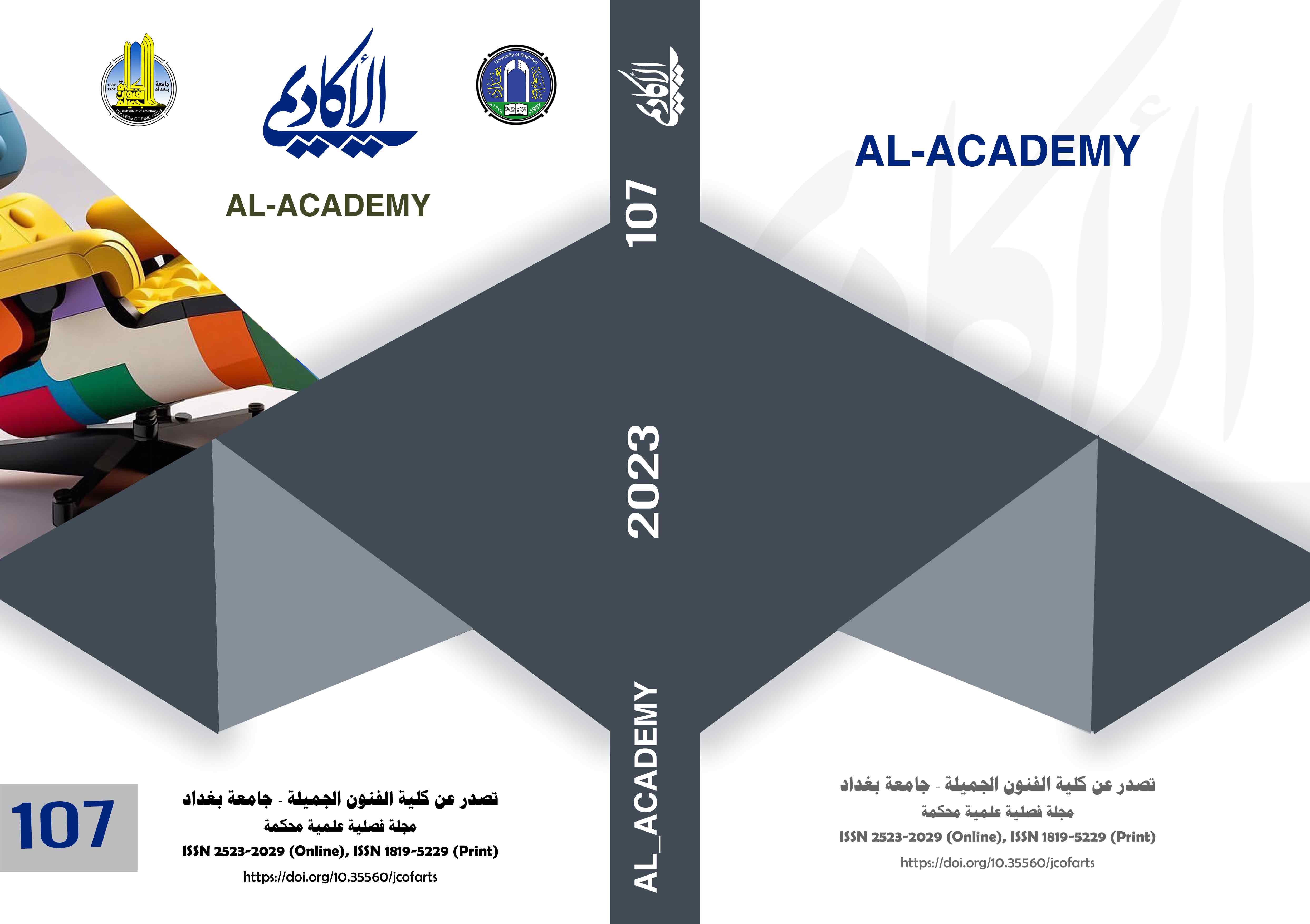 How to Cite
Al-Otoom, Y., khasawneh, fuad, Altaani, M., & Tawalbeh, F. (2023). Geometrical Foundations of Shape in Structural Design of Contemporary Ceramic Pots "The artist "IBRAHIM SAEED" is a model". Al-Academy, (107), 271–288. https://doi.org/10.35560/jcofarts107/271-288
License
Copyright (c) 2023 Yacoub Al-Otoom, fuad khasawneh, Mahmoud Altaani, Fatima Tawalbeh
This work is licensed under a Creative Commons Attribution 4.0 International License.