The Abilities Musical level and its relation with the forgiveness
Keywords:
Abilities Musical, forgiveness, Musically Talented
Abstract
This study aimed to recognize the Abilities Musical level and its relation with the for positive thinking, The present study relied on the analytical correlational descriptive approach The study population consisted of 167 female students who participated in musical activities, among the students of Maysaloon Elementary School for Girls affiliated to the Directorate of Education for the Bani Ubaid Brigade in Irbid Governorate. While the sample of this study consisted of (65) female students; , from level: intermediate .
The correlative analytic descriptive method was used, Was applied to the study sample Seachor tests of musical capabilities (the abbreviated image), which was codified by the Arabic (Sadiq (2001), the scale of positive thinking prepared by the researcher and this study results indicated the following: The Abilities Musical level among he students of the upper basic stage was high, the results indicated that the forgiveness level among students was high, there was a positive statistically significant relationship between the level of Abilities Musical and the forgiveness. The study recommended attention to the musical education course in public schools. Developing music education materials according to the students 'attitudes towards music education
References
Abou Rarqiqh, M; Ibrahim, A ; Soliman, S(2021), A Training Program for Developing love and Tolerance among Secondary School Students to Reduce Violence. Research Journal,.1(4),144-148.
Al-Ameedi, H and Hamza,A . (2018). The educational function of music in school operas: The operetta (read) as a model. Journal of the College of Basic Education for Educational and Human Sciences. 39, 1108-1120.
Ali, G. (2020). Spiritual intelligence and its relationship to psychological reassurance, self-efficacy in the musical performance of university students. Educational Journal, Sohag University, 20, 708-632.
Al-Khalayleh, B. (2017). The effect of using musical activities in developing positive social behavior among sixth grade students in Jordan. Unpublished Master Thesis, College of Graduate Studies, The Hashemite University, Jordan, Zarqa.
Al-Momani, M. ;Al-Hammouri, K. & Younes, N; Al-Qur'an, J. (2011). Show the level of musical abilities and academic achievement of students who excel academically. Jordanian Journal of Art, (1) 4, 29-34.
Al-Qallaf, F. (2013). The effect of learning music on emotional intelligence among students of the general and secondary school music in the State of Kuwait. Arab Journal of Social Sciences, 3 (2), 88-127.
Amoter,M; Majee, Y; Shawkat, A(2021). relationship between tolerance and anger management among university students . Research Journal, 1(6),1-23.
De Nora, T. (2000). Music in Everyday Life. New York: Cambridge UP.
Diab, M. (2014). Positive psychology. Riyadh, Dar Al-Zahraa for Printing and Publishing.
Girgin, D. (2020). Motivation, Self-Efficacy and Attitude as Predictors of Burnout in Musical Instrument Education in Fine Arts High Schools. Eurasian Journal of Educational Research,85,93-108.
Haddad, R. (2016). The impact of music education in school on the mental health of students and motivating them to learn. Journal of Psychological and Educational Studies, 9 (17), 32-25.
Ivanovic, M; Sudzil, D. (2019), Social Influences and Development of Musical Preferences, Attitudes of Future Elementary School Teachers. Journal Plus Education, 23 , 71-80.
Joseph, D., & Southcott, J. E. (2015). Singing and companionship in the Hawthorn University of the Third Age Choir, Australia. International Journal of Lifelong Education, 34(3), 334–347.
Jarrar,A (2013). Positive Thinking & Good Citizenship Culture: From the Jordanian Universities Students' Points of View. International Education Studies; 6, (. 4); 183-193.
Kendrick, M & McKay, R. (2004). Drawing as an Alternative Way of Understanding Young Children's Constructions of Literacy. Journal of Early Childhood literacy, 4(1), 109-129.
Laukka, Petri. (2007). Uses of music and psychological well-being among the elderly. Journal of happiness studies, 8(2), 215.
Lee, J., Davidson, J. W., & Krause, A. E. (2016). Older people's motivations for participating in community singing in Australia. International Journal of Community Music, 9(2), 191–206
Mawang, L. L.; Kigen, E. M.; Mutweleli, S. M. (2019). The relationship between musical self-concept and musical creativity among secondary school music students. . International Journal OF MUSIC Education; FEB, 37( 1), 78-p90,
Mitchell, A. K. (2018). Seven Steps to Heaven: Time and Tide in 21st Century Contemporary Music Higher Education. Australian Journal of Teacher Education, 43(5),123-876.
Orfy, K. (2021). Modeling the causal relationships between psychological Flourishing and both tolerance and wisdom among students of the Faculty of Education. Education for the Faculty of Education, Suhag University. 88(3), 1272-1364.
Sadiq, A. (2001). Seachure instructions for musical abilities. Cairo: The Anglo-Egyptian Library.
Sahlawi, M. (2017). The role of music education in addressing aggressive behavior in the school environment - intermediate education stage. Educator's Journal, 20, 80-99.
Nasr, Mu& Arnos, N. (2009). The effectiveness of musical activities in developing language skills among kindergarten children, experimental study. The Fourth Arab Scientific Conference: Academic Accreditation for Specific Higher Education Institutions and Programs in Egypt and the Arab World - Reality and Expectations, Faculty of Specific Education, Mansoura University, 2, 1587-1566.
Rye, M. S; Loiacono, D. M; Folk, C. D; Olszewski, B. T;Heim, T.A and Madia, B. P, (2001). Evaluation of the psychometric properties of two forgiveness scales .Current Psychology: Development. Learning. Personality, (20), 260-277.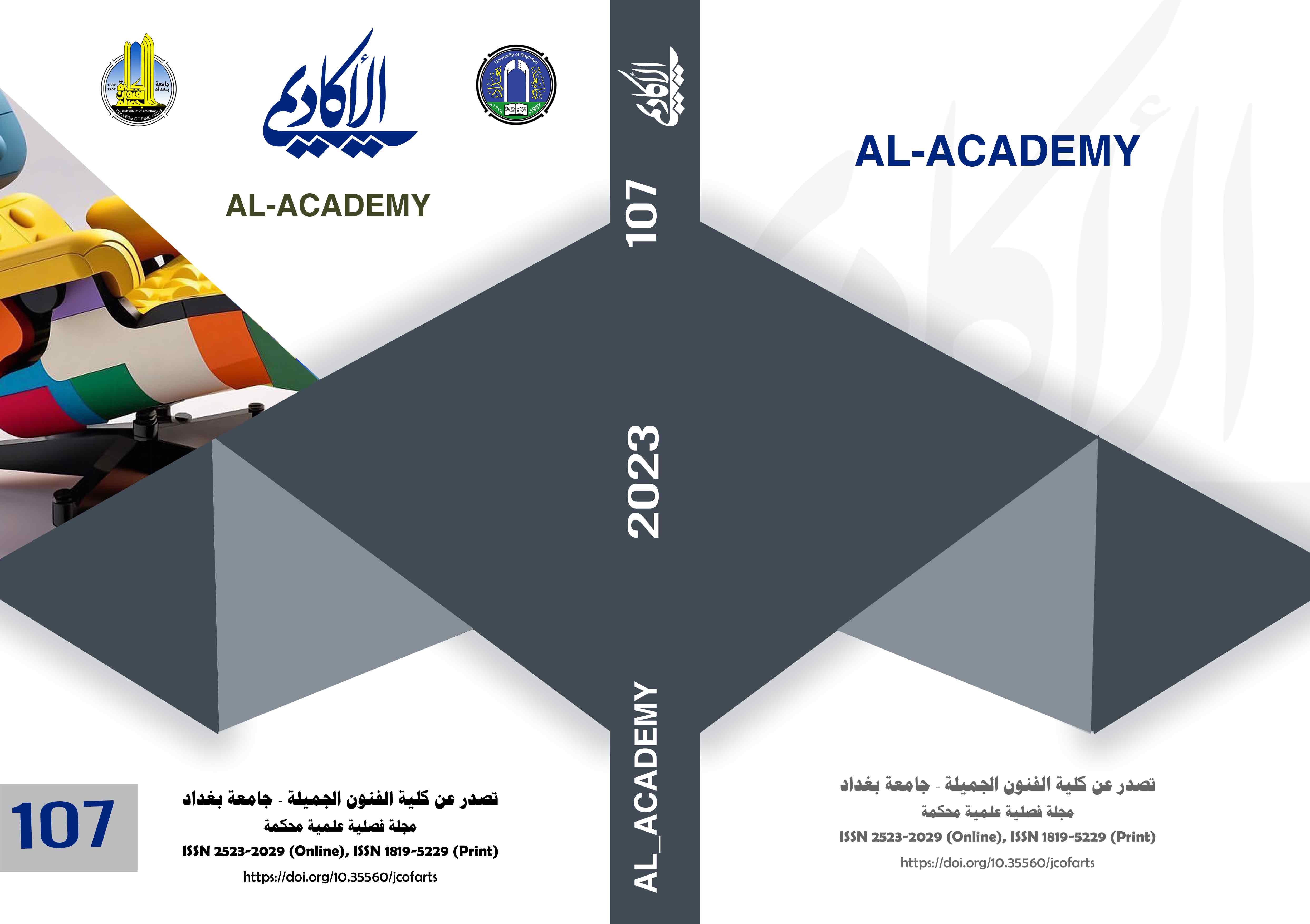 How to Cite
Ibrahim Hanna Ayyash , W. (2023). The Abilities Musical level and its relation with the forgiveness . Al-Academy, (107), 331–344. https://doi.org/10.35560/jcofarts107/331-344
License
Copyright (c) 2023 Wafaa Ibrahim Hanna Ayyash
This work is licensed under a Creative Commons Attribution 4.0 International License.