Decorative aesthetic aspects and their use in Islamic architecture
Keywords:
Islamic Art , Architecture , Veganism , Islamic Culture
Abstract
The architecture of the richly decorated mosques demonstrated that the Islamic culture is one of the most significant and greatest civilizations in the history of humanity. The plant decorative units are one of the key areas in which the Muslim artist excelled. As a result, he created various plant forms that he took from nature, which led him to invent the arabesque art consisting of plant motifs with curved and rounded lines or wrapped between them. These shapes with curved borders include leaves, twigs, and flowers. Buildings and artefacts from the nineteenth century AD have this shape. they achieved their objectives during the twelfth and thirteenth centuries. There was another kind of vegetable decorative unit, made up of stems and flowers drawn in arranged geometric patterns. This sort of design, which deviates from the standard in Islamic art and takes on a form more akin to that of nature, was particularly popular in Persia. The types and shapes of flowers vary, as well as the shapes of the leaves, their edges, or their miniatures. The artist also painted more plant branches with circular and spiral curves, leaves, and flowers emerging in a geometric artistic relationship in which repetition, contrast, symmetry, and overlap, which is distinguished by a hint of modification and inspiration. This later influenced art schools in the architectural decorative unit methods. Do not construct from nature.
References
Dorothea: Design Elements and principles, U.S.A.,1995.
Pope (A.U: Survey of Persian Art, Vol IV part II .
Saria, A. Sidky: Analysis of Dynamic Interplay Encountered in an Islamic Geometrical Art. Unit: A system perspectives Ph.D., State University, New York at Buffalo. September,1989.
Wilber Du Donald: The Architecture of Islamic Iran: The Ilkanid period – Princeton University,1955.
Ryan, M.G.; 2002: "The Complete Encyclopedia of Stitchery" Barnes & Noble Books, New York
Abas S., Salman A. (1995), Symmetries of Islamic Geometrical Patterns, World scientific publishing Co. Pte. Ltd, Singapore.
Akkach, S. (2005), Cosmology and Architecture in Pre modern Islam: An Architectural Reading of Mystical Ideas. Albany: State University of New York Press.
Baer, E. (1998), Islamic Ornament, Edinburgh University Press, Edinburgh, pp. 160.
Bonner Jay (2003),Three Traditions of Self-Similarity in fourteenth and Fifteenth Century Islamic Geometric
Ornament, Meeting Alhambra, Isama- Bridges Conference Proceedings , pp. 1-12
Brend Barbara (1991), Islamic Art, British Museum Press, Great Britain.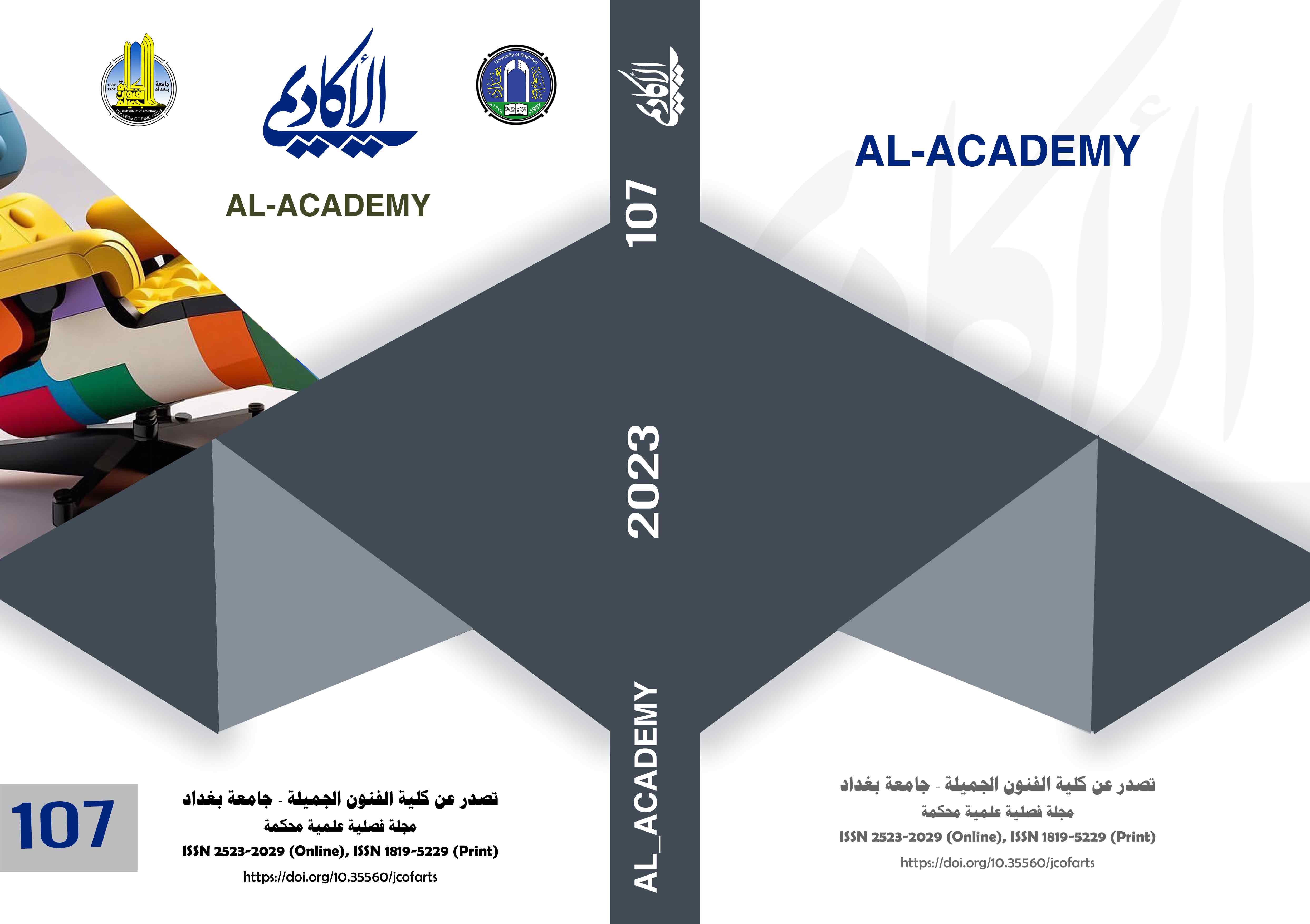 How to Cite
Mohammad Nasser AL-Arifi, T. (2023). Decorative aesthetic aspects and their use in Islamic architecture. Al-Academy, (107), 77–92. https://doi.org/10.35560/jcofarts107/77-92
License
Copyright (c) 2023 Tahani Mohammad Nasser AL-Arifi
This work is licensed under a Creative Commons Attribution 4.0 International License.