Semiotic Transformations in Scenography of the Iraqi Theatre Show "The Play of Ali Al-Wardi and his Opponent- A Model"
باسم محمد احمد حسن
Abstract
      Semiotics has been through wide experiences in various human sciences, especially in the fields of poetry, novel and myths. But its interest in the theatre and drama was much less and unique despite the richness of the theatrical connection as it is a probable field for the semiotic investigation which may require the semiotic approach in dealing with the theatrical and dramatic show during the two processes of: structural construction and deconstruction starting from a set of overlapping and interconnected texts inside the show, which can be limited in the text, then it would be difficult to semiotically cover all these complex and tricky texts. The theatre in its structural and aesthetic construction is considered a comprehensive art and the father of arts and consequently, this requires the semiotician to be familiar with a number of sciences and, knowledge, arts and images. The previous researches dealt with scenography as an art of arrangement and ornamentation or the engineering of the scene, and it has not been treated as a visible language that talks during the theatrical show through the visual stimulator of the modern technologies that has made long strides in the possibilities and modalities of use that scenography today has become an indispensable part of the show and has fans, specialists and critics. Thus the title of the research is (Semiotic Transformations in Scenography of the Iraqi Theatre Show the Play of Ali AL-Wardi and his Opponent- A Model).
      The research consists of four chapters. The first chapter dealt with (the methodological framework), the research problem and the need for it, then the importance of the research, objective, limits and the major terms have been specified. The second chapter (the theoretical framework) in which the researcher addressed two sections. The first section: the concept of semiotics and where it was centered and how was it manifested. The second section: the semiotic transformations in the scenography of the theatrical show. The chapter ended with a set of indicators of the theoretical framework.
         As for  the third chapter: the research procedures including specifying  the research community, samples, and the selection method starting from the research methodology, tools and methods, and then analyzing  the sample which is the Iraqi paly ( Ali Al-Wardi and his opponent) which has been deliberately chosen in order to reach  and discuss  the results of the research.  
The fourth chapter: the researcher came up with the final results and conclusions. The research ends with a list of margins, references and sources that have been used in addition to the abstract in English.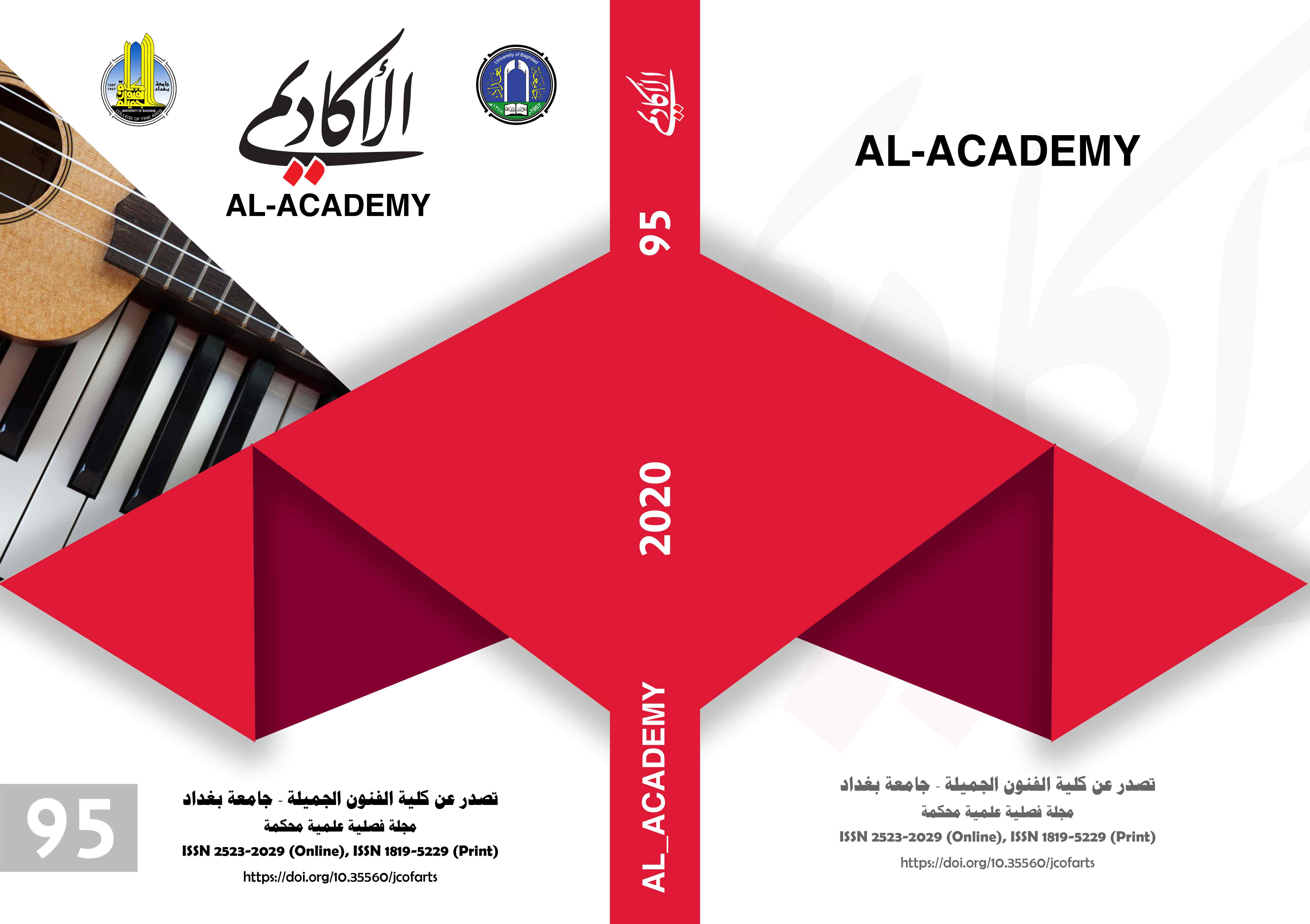 How to Cite
Mohammed Ahmed Hassan, B. (2020). Semiotic Transformations in Scenography of the Iraqi Theatre Show "The Play of Ali Al-Wardi and his Opponent- A Model": باسم محمد احمد حسن. Al-Academy, (95), 87–104. https://doi.org/10.35560/jcofarts95/87-104