Semiotics of Musical Sign in Iraqi Pantomime Show (Ahriman) as a Model
علي عدي صاحب-شيماء حسين طاهر
Keywords:
semiotic - sign - pantomime
Abstract
The musical sign was associated with the first appearances of acting that are based on human gestures and expressive and silent movements, and they contributed in accentuating and clarifying these gestures and explain their meanings and indications, and they remained with them until these gestures turned into artistic theatrical shows so that the musical sign would have many functions and constitute the main pillars for this kind of show.
The musical sign is a language not much different than the human language in the semiotic analysis. There has been an increased interest in it and its use in the mime shows by the graduates who realized its necessity and significance in the pantomime show intellectually, artistically and aesthetically. The first chapter included (the theoretical framework) which consists of the research problem represented by the following question: (Does the musical sign in the pantomime show have different indications and functions in other theatrical shows?). it also included the research importance in highlighting the musical sign, as the mime actor performance is a sign performance that excludes the verbal sign from the process of conveying the indication to the recipient. The research objective is limited to (semiotics of the musical sign in Iraqi pantomime show (Ahriman) as a model. This chapter consists of research limits (temporally determined by 2014) and spatially by the shows presented in Baghdad, Ali Deayym's show, and then defining the terms of the research and concluded with procedural definitions.
The second chapter consisted of (the theoretical framework and the previous studies). The first section is (the concept of the theatrical sign). The second section addresses the musical sign and its performative features in the pantomime show. The second chapter concluded with the indicators that resulted from the theoretical framework. The third chapter is dedicated for (the research procedures) and the indicators that resulted from the theoretical framework as it is a tool for the analysis within an (analytical) descriptive method and watching the shows and photographs, so the show (Ahriman) directed by (Ali Deayym ) in (2014) in an intentional method for certain reasons justified by the researchers to keep pace with the sections and to achieve the study objectives and to resolve its problem. The fourth chapter ended with a number of results including:
1- The musical sign created the rhythm of the show.
2- The musical sign declares the dramatic transformation and transition.
Then the research ends with an abstract.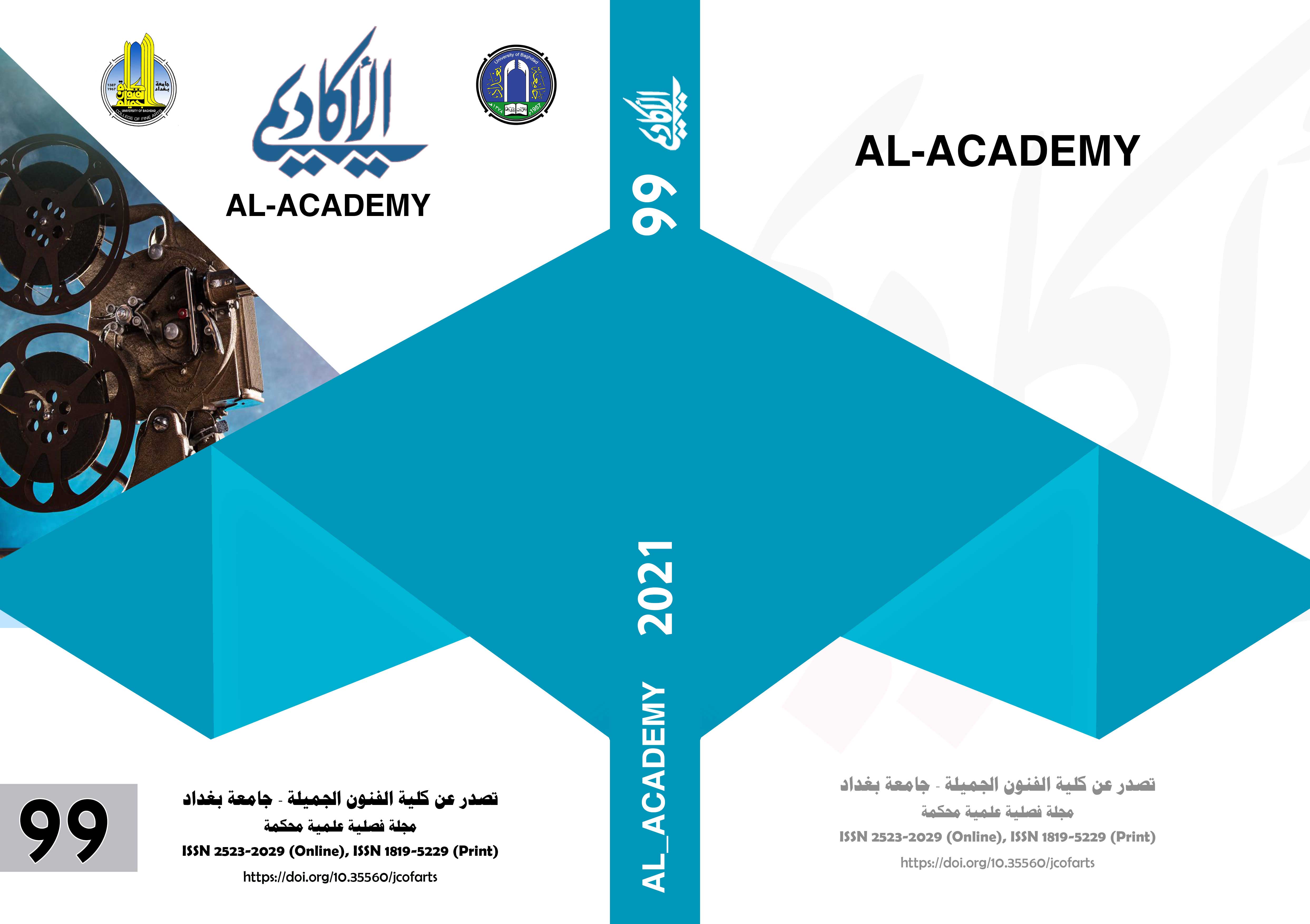 How to Cite
Uday Sahib, A., & Taher, S. H. (2021). Semiotics of Musical Sign in Iraqi Pantomime Show (Ahriman) as a Model: علي عدي صاحب-شيماء حسين طاهر. Al-Academy, (99), 199–214. https://doi.org/10.35560/jcofarts99/199-214