Synthetic Sculpture Techniques in Outputs of Students of the Department of Art Education
أشراق علي خلف العزاوي
Abstract
The research studies the synthetic sculpture techniques in the outputs of the students of the department of art education in terms of the shape, texture, content and technique, and employing this style by the students of the department of art education on the college of fine arts, university of Diyala. The research consists of four chapters: the first chapter: the research problem summarized by looking for the synthetic sculpture and its importance in the treatment the industrial wastes in our social life, according to modern synthetic techniques, in the American and European sculpture. This technique has been employed in more than one contemporary artistic direction and style.
This study is considered important for the students of the college of fine arts and the researchers and those concerned. It is an introductory source of a group of sculpture techniques in the world and has a social, educational and cultural importance. The aim of the research is to identify the synthetic sculpture techniques in the outputs of the students of the college of fine arts in the university of Diyala in the period of time extending from 2017 until 2018. It consisted of synthetic sculpture techniques. The chapter also consisted of identifying the terms of the research. The second chapter consists of two sections: the first section dealt with the techniques of the synthetic sculpture and the artistic direction s, and the raw material used in the contemporary artistic achievement. As for the second section, it includes the artistic movements after the middle of the twentieth century, and the section focused on the contemporary styles that employed the synthesis technique. The chapter ends with the indicators that can be relied on as a tool for analyzing the works. As for the third chapter: It consists of the research procedures, the research community, methodology, samples, research tool, analysis of the sample and justifications for the choice of (3) samples. These samples have been chosen according to their representation of the research community and its temporal limits, through which the research objective can be reached at after the analysis. The researcher arrived at some results and conclusions including:
1- The shapes of the works differed between the elongation of the lines as in sample (1, 2) or the shape takes semi-complex and horizontal lines as in sample (3) which confirms the variation of axes adopted by the students.
2- The works in the samples (2, 3) appear in the synthetic style due to the use of more than one raw material, while the sample (1) appears in the structural style depending on one material.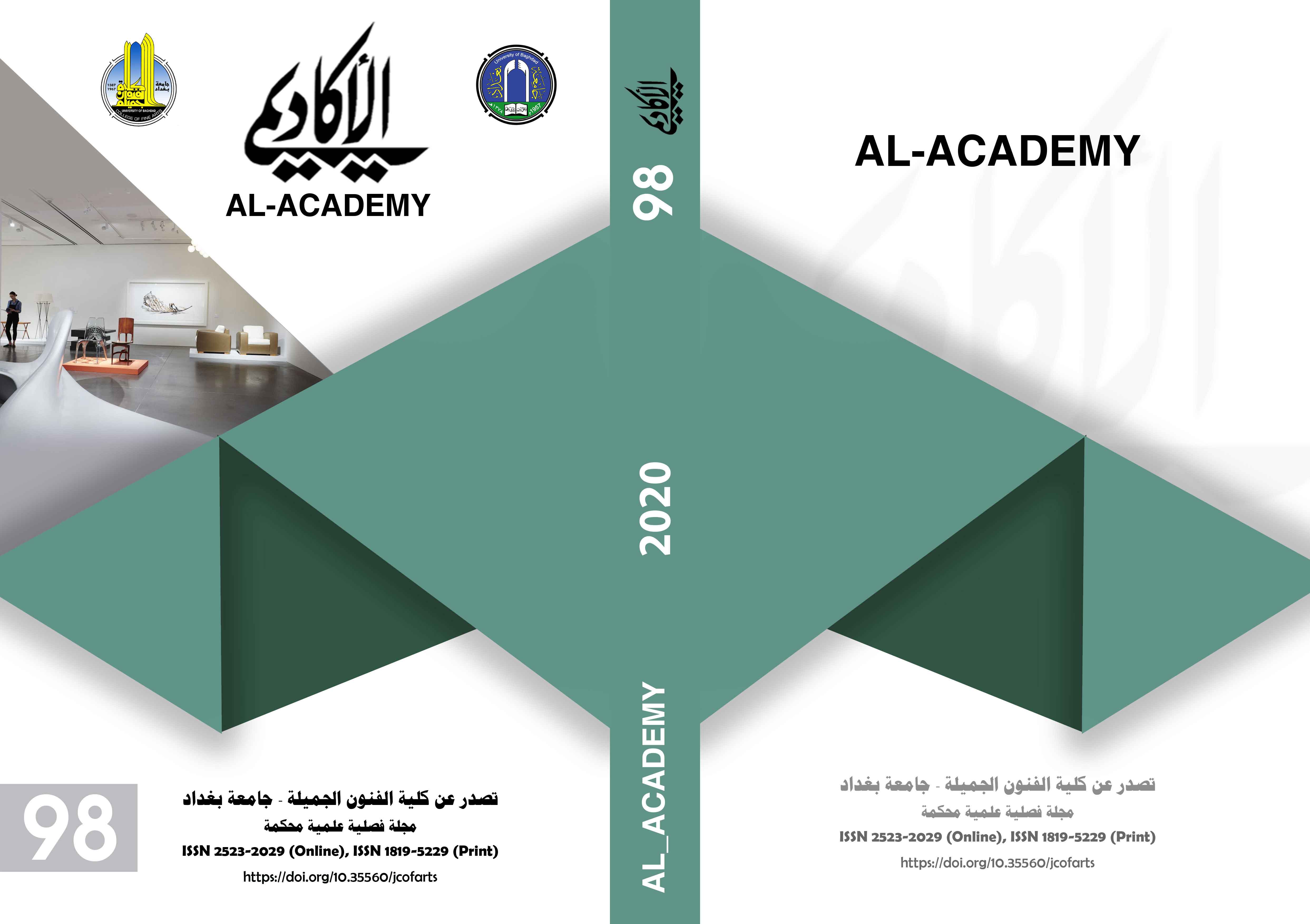 How to Cite
ALI KHALAF AZZAWI, I. (2020). Synthetic Sculpture Techniques in Outputs of Students of the Department of Art Education: أشراق علي خلف العزاوي. Al-Academy, (98), 179–196. https://doi.org/10.35560/jcofarts98/179-196