The artistic treatment of the expatriate character in the fictional film
آسيا جبار خلف
Keywords:
Art Therapy - Expatriate Character - Feature Film
Abstract
Although cinema is moving towards art, it has dealt with the character since the beginning of the discovery of cinematic art in films such as (Doctor Caligari's cabin) and most German expressive films in the third decade of the twentieth century, but the interest of cinema is growing in the estranged human personality, meaning that this character It lives by its alienation from the environment and society that surrounds it, because our present days have witnessed on the material and moral level more social breakdowns such as wars and disasters, and the sharp contradiction in the social and economic level of people themselves or between different societies, or between the individual and his community, and new social relations have increased, And the control of technology over the walks of life makes a person jealous far away in his loneliness and isolation because he lacks the warmth of human relations, and the control of interests and matter in the collective behavior, so the expatriate personality has become a topic worth discussing and highlighting it, and cinema was and still deals with the expatriate personality widely, so the problem of research She, did you present the expatriate personal film treatments in convincing ways?
As for the importance and need for research, it lies in the psychological aspects of the personality that are taken through the film, which include psychological studies, and that serve in the field of character identification, and this research can be a source of worship for filmmakers, in how the personality is alienated. The importance of this study in the cinematic field was discussed, and it contained the objectives that the researcher had set in mind and the limits within which the research works.
In the theoretical framework, the researcher dealt with three topics, the first was: the real personality and the artistic personality, while the second topic lost the personality and the dramatic climax, and the third topic: the personality and alienation in the cinematic film, and the research procedures came including the following axes: The research method, which was the descriptive approach - a study The case, which is a straightforward approach, human studies, the research community, the research sample, the research tool, and the analysis unit.
Then the film sample that was subjected to analysis was discussed according to the indications that were taken out of the theoretical framework, and these indicators were summarized in two main axes and the sample consisted of one film, which is: Film (When Nietzsche Cried) directed by (Pinjas Perry). The research concludes with research results, recommendations, sources and references.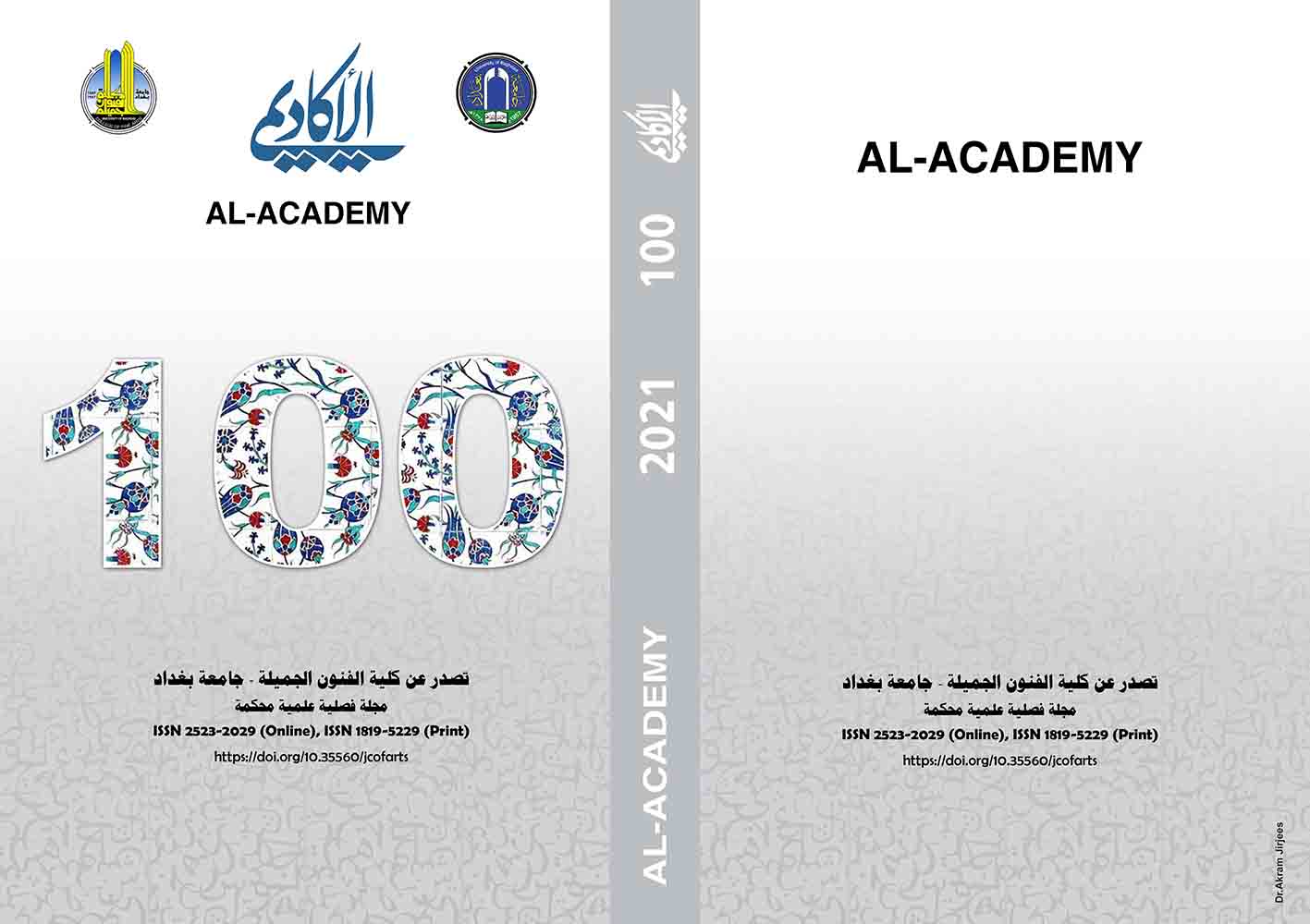 How to Cite
Jabar Khalaf, A. (2021). The artistic treatment of the expatriate character in the fictional film: آسيا جبار خلف. Al-Academy, (100), 213–232. https://doi.org/10.35560/jcofarts100/213-232