The manifestations of the image theater in the performances of postmodern theater
فينوس حميد محمد جواد
Venus Hamid Mohammed Jawad

College of Fine Arts. University of Baghdad
Keywords:
manifestations, Image Theater, postmodern theatre
Abstract
When we try to navigate the experiment in search of the repressed and to find the dream of creativity by changing the modularity of the presentation, and the relationship of the characters with the rest of the elements according to a visual vision that reflects the product of the presentation system through the formation of visions and ideas within the textual structure.
We find that the expression of the theatrical act may need to exclude narrative dialogues and turn them into a tangible visual language. Physical and visual expression, and movement review, thus producing a "picture language" through which it is possible to form a new vision, and this is called (image theater), which translates the language of dialogue through lighting, music and costumes, as well as the movement of actors, in light of that a group of questions was concluded about the ability of this Theater on balance and the combination of image and sound? And the extent of his ability to activate the mechanism of semantic transformations that reach the modern recipient? Can he also destroy the traditional laws of theater that depend on the language of mathematical equations, with the intention of navigating the world of dream and fantasy? In light of this, the researcher established the title of her research tagged (the manifestations of the image theater in the performances of the postmodern theater).
Methodological framework: It included the research problem, its importance, its objectives, and the definition of terminology.
Theoretical framework: It was divided into two sections that came as follows: The first topic: the postmodern theater and the problematic of the formal structure between the director and the text, and the second topic: the theater of the image between philosophy and formation. After that, the researcher reached the indicators of the theoretical framework.
Research procedures: It included the research community, and the research sample was a play (Macbeth) written by: Shakespeare
Directed by: Salah Al-Qasab) according to the indicators that the researcher got out of the theoretical framework.
After analyzing the sample, the researcher reached a number of results and conclusions, including:
1. The Iraqi director "Salah Al-Qasab" is one of the most important Iraqi directors who worked on the establishment of Al-Sura Theater, and supported the semiotic theater on the Arab and local levels.
2. The contemporary theater director no longer depends in the essence of his work on what is found in the theatrical text in terms of relying on previous experiences.
The research concluded with recommendations and sources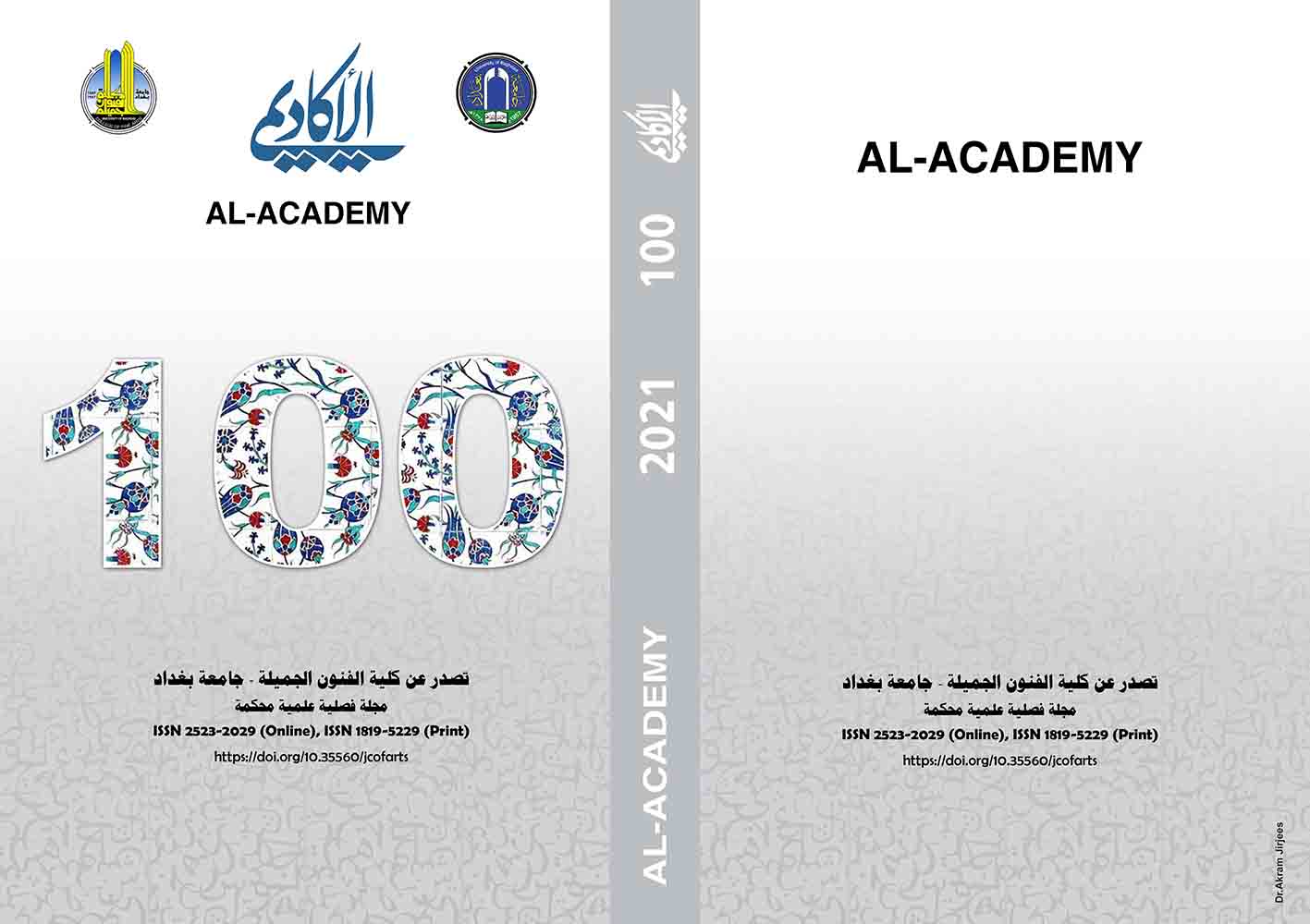 Copyright (c) 2021 Al-Academy Journal
This work is licensed under a Creative Commons Attribution 4.0 International License.