The plastic structure in the lyrical introduction to pre-Islamic poetry " The hanging Tarfa bin Al-Abd as a model"
زينب خليل حسين
Keywords:
structure. Fine, spinning. Poetry. Tarfa bin Al-Abd
Abstract
The research deals with the lyrical introduction in the commentary of Tarfa bin al-Abd as a formative system characterized by flexibility and richness of imagination, which achieved a formative treatment and a unique construction within the structures of the structural and semantic language. I dealt with the poetic verses represented by the lyrical introduction as a formative hypothesis, basing its goal on a methodological framework distributed on the problem that was summarized by the following question: Is it possible to look at the poetic pattern within the pre-Islamic poem / hanging blinking as a model, in its plastic dimensions and to identify the stylistic treatment that achieves the formation space within the poetic text. The research was divided into an introduction and two chapters. The first dealt with the plastic structure and its artistic elements, and the second dealt with the life of the poet and his creative literary art. It also dealt with the analysis of the poetic text and the discovery of plastic treatment in it. The procedures ended with the most prominent results, including:
The poem was distinguished by the visual richness provided by the diversity of words and their sensory load that allows the reader's imagination to see the event as if it were just happening.The poetic text showed a flexible and abundant language in terms of vocabularies and meanings, as well as the advanced plastic pattern in the body of the poetic text. After that, the research monitored the general conclusions reached by the scientific research journey, and ended with an index of sources and a summary of the research in English.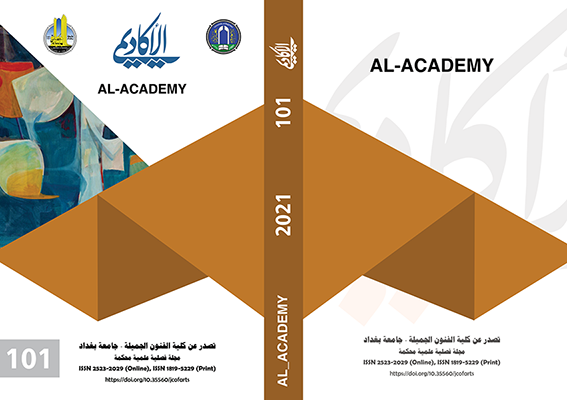 How to Cite
Khalil Hussein, Z. (2021). The plastic structure in the lyrical introduction to pre-Islamic poetry " The hanging Tarfa bin Al-Abd as a model": زينب خليل حسين. Al-Academy Journal, (101), 85–98. https://doi.org/10.35560/jcofarts101/85-98