Representations of puns in the cover designs of Der Spiegel magazine
Keywords:
puns, magazine covers, graphic design
Abstract
 Pun concept the design discourse for the cover of magazines the researcher chose the German magazine Der Spiegel as a model for that, as the research problem was manifested by the following question: What are the representations of puns in the covers of the German magazine (Der Spiegel)? The researcher has identified four chapters for this study as follows: The first chapter is devoted to research procedures, and the theoretical framework, which is like the second chapter, included the literature related to the topic of research according to the two interlocutors. A review of the concept of pun in the field of typographic design and the functions that puns achieve in that field, leading to the third chapter, which included the analysis of sample models, and the fourth chapter (results and conclusions).
References
A. A. (1974). Al-badiee Science. Lebanon Beirut: Arab Renaissance House.
A. M. (1982). form and function. Arabic arts, 7.
A. M., & K. H. (1990). Rhetoric and application. Beirut: Beirut Modern Printing Press.
A. S. (1999). press announcement. Cairo: Cairo University for Open Education.
A.-R. M., & Al-Bazai, S. (2000). Literary critic's guide. aldaar albayda: Arab Cultural Center.
Al-Bustani, F. E. (1987). Al-monged talib (31 ed.). Beirut: Al-Mashriq house.
Al-Ghabban, B. Q. (2010). Taste the arts is a philosophy. baghdad: Dar Al Hana.
Alnajar, s. a. (2001). Introduction to press release. Cairo: Egyptian Lebanese House.
Al-Nouri, I. J. (n.d.). Art and Aesthetics. Baghdad: House of General Cultural Affairs Small Encyclopedia.
Al-Obaidi, J., & F. K. (1989). mass communication media. Baghdad: College of Fine Arts.
Al-Wuhayshi, K. A.-B. (1999). Basics of journalistic production. Benghazi: Publications of Faz Younes.
E. A. (2011). Digital technology and its role in designing the branding structure for the covers of international magazines. Baghdad: University of Baghdad, an unpublished master's thesis submitted to the College of Fine Arts.
F. B. (1995). Reading painting in modern art, an applied study in the works of Picasso. Beirut: alshuruq.
H. S. (2010). magazine design. Cairo: House of thought and art.
Jerome, S. (1974). Art criticism is an aesthetic and philosophical study. (F. Zakaria, Trans.) Egypt: eayn shams.
M. A. (1981). Photography in the fields of media. Cairo: Egyptian General Book Authority.
M. A., & M. D. (2003). The sciences of rhetoric and the interpretation of meanings. Lebanon: Modern Book Foundation.
Madkour, I. (1983). Philosophical Dictionary. Cairo: General Authority for Asian Press Affairs.
Matlob, A. (1987). A glossary of rhetorical terms and their development. iraq: Iraqi Scientific Academy Press.
N. J., & I. T. (2017). Structural systems in designing the covers of international magazines. al-academy Journal, 89.
Qurqamas, N.-D. (2017). Spring flower in the evidence of Budaiya. Jordan: Treasure House.
R. A. (1987). aesthetic values. Alexandria: University Knowledge House.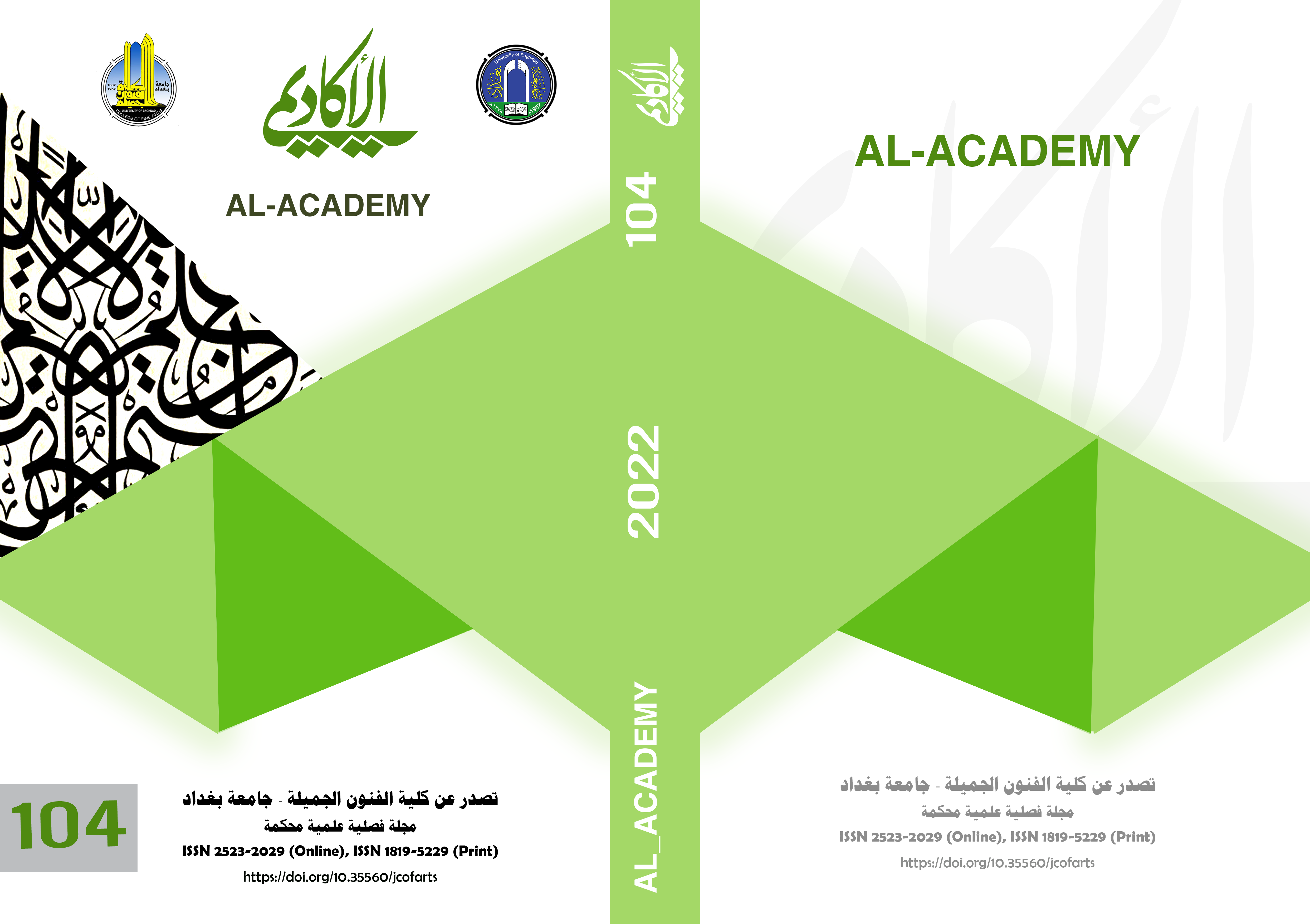 How to Cite
Kareem Salem, M. ., & Muayyad Abdul Hussein, M. . . (2022). Representations of puns in the cover designs of Der Spiegel magazine. Al-Academy, (104), 137–152. https://doi.org/10.35560/jcofarts104/137-152
License
Copyright (c) 2022 Muhammad Kareem Salem, Maha Muayyad Abdul Hussein
This work is licensed under a Creative Commons Attribution 4.0 International License.