Directorial visions and sociological adaptation of heritage in theatrical performance
Abstract
The theatrical performance has an aesthetic, artistic, technical and intellectual vision presented by the theatrical director according to the dualities of theatrical form and content, which depend on the uniformity and interconnection of theatrical elements, as the vision is integrated through the harmony and fusion of these elements and the flow of their coordination with an aesthetic system within the framework of the aesthetic space of the theatrical performance, and when the heritage is presented in the performance, as there will certainly be different readings of that heritage and moving away from the iconization of the event and highlighting it in a manner that is in line with the spirit of the age.
the (researcher) tries, through her research headlined (directorial vision and sociological adaptation of heritage in theatrical performance), to grasp the hypothesis of heritage at the levels of time, place, event, topic and mechanism of action.
And the director's adaptation of heritage and his aesthetic vision, sociologically.
The research is formed through two axes, the first is the research in the sociology of theater throughout history and the discussion of the sciences that presented those hypotheses and the philosophers who contributed to finding the determinants and features of sociology, theatrically, and through living experiences that presented the directorial adaptations to it through different societies and the mechanism of the director's work on those adaptations.
The (researcher) also presented another topic that discussed the references of directorial visions and their sociological adaptation of heritage in theatrical performance through a group of performances that contributed to presenting directorial visions of heritage in their various theatrical experiences, and she (the researcher) also referred to some indicators that will contribute to analyzing the research sample descriptively because it represents a criterion in the work of (the researcher), to come up with a set of results through which it is possible to refer to some conclusions to reach satisfactory answers to the research problem, which is the question of what are the epistemological references of the directorial vision, sociologically, in the adaptation of heritage in theatrical performance
References
. Elias, (Mary) and Qassab, (Jinan), Theatrical Dictionary, Beirut: (Library of Lebanon Publishers), 2006.
Ibn Manzur, Lisan Al Arab, Volume 2, Beirut: (Dar Sader for Printing and Publishing), 1955.
Ardash, Saad, director in contemporary theater, Kuwait: (The World of Knowledge Series, the National Council for Culture), 1979.
Ibn Khaldoun, (Abdul Rahman), Introduction, Beirut: (Dar Al-Qalam for Publishing), 1987.
Eliot, (Alexander), Horizons of Art, translated by: Jabra Ibrahim Jabra, Beirut: (The Arab Book House), 1964.
Bershid, (Abdul Karim), The Limits of the Object and the Possible in the Ceremonial Theatre, Morocco: (Dar Al Thaqafa for Publishing and Distribution), 1986.
Bourdieu (Pierre), Issues in Sociology, see: Hana Sobhi, Abu Dhabi: (Abu Dhabi Tourism and Culture), 2011.
Bourdieu, (Pierre), and Basron, (Jean-Claude), reproduction, read: Maher Trimish, Beirut: (The Arab Region for Education and Publishing), 2007.
Hamdaoui, (Jamil), Max Weber's Efforts in the Field of Sociology, Morocco: (Al-Alukah Press), 2010.
Al-Hasan, (Ihsan Muhammad), and Al-Ahmad, (Adnan Salman), Introduction to Sociology, Amman: (Wael's House), 2004.
Al-Hassan, (Ehsan Muhammad), Principles of Modern Sociology, Amman: (Wael House), 2005.
Al-Khatib, (Muhammad Al-Khatib), Greek Thought, 1st Edition, Damascus: (Alaa Al-Din House for Publishing, Distribution and Translation), 1999.
Doroub, (Mohamed Hussein), The Anthropology of Memory and Pension, Beirut: (Anthropological Studies Series, Arab Development Institute), 1984.
Al-Zayoud, (Ismail Muhammad), Sociology, Amman: (House of Knowledge for Publishing and Distribution), 2010.
Segal, (L), An overview of the history of society since the beginning of history, Damascus: (Damascus Publishing House), 1974.
sakran, (Riyad Musa), Theatre, Baghdad: (House of Cultural Affairs), 2000.,16.
Abdul Muti, (Abdul Basit), Theoretical trends in sociology, Kuwait: (The World of Knowledge Series, No. 44), 1981.
Othman, (Ibrahim Issa), Introduction to Sociology, Amman: (Dar Al-Shorouk), 2008.
Al-Issawi, (Hadi Saleh), The Horizons of Sociology in the Arab World, Amman: (Osama Publishing House), 2008.
Maalouf (Louis), Al-Munajjid - A Dictionary of the Arabic Language, Beirut: (The Catholic Press), 1952.
Neferund, (Julia) Sociology of Max Weber, TR: George Abi Saleh, Beirut: (National Development Center), 2019.
Hebner, (Zigmund), The Aesthetics of Directing Art, see: Hana Abdel-Fattah, Cairo: (Egyptian Book Organization), 1993.
Al-Hashimi, (Mahmoud Munqith), Critical Vision - Studies in Criticism and Literature, Damascus: (Union of Arab Writers), 1980.
Wali, (Tariq), The Problem of Heritage Protection, on the Arab Forum for Cultural Heritage, Proceedings of the First Arab Forum for Cultural Heritage, Sharjah: (Regional Office for the Preservation of Cultural Heritage in the Arab World - ICCROM), 2018.
Magazines and newspapers;
Jamil, (Jalal), and Ismail, (Muhammad), directing treatments in the theater forum performances, Baghdad: (Qatari Journal of Arts, p/1, Ministry of Higher Education and Scientific Research), 2001.
Abdul Hamid, (Sami), Treating the plot in radio drama, Baghdad: (Al-Akademey Magazine, No. 10), 1995.
University theses and theses;
Jassim, (Abdul-Ridha), the directing vision of Greek tragedies, an unpublished master's thesis, Baghdad: (University of Baghdad - College of Fine Arts - Department of Dramatic Arts), 1999.
foreign sources;
Louis Jouvet, TheProfession of The Director, Directors on Directing, Toby Cole Helen K. Chenoy, N.Y, The Bobbs Merrill Co. Inc, 1963.
Iexander Dean, Fundamentals of Play Directing. N.Y. Rienhart company, Inc.1953.
Genette,(Gérard), Figures III, Paris : Seuil/ Points Essais, 1972.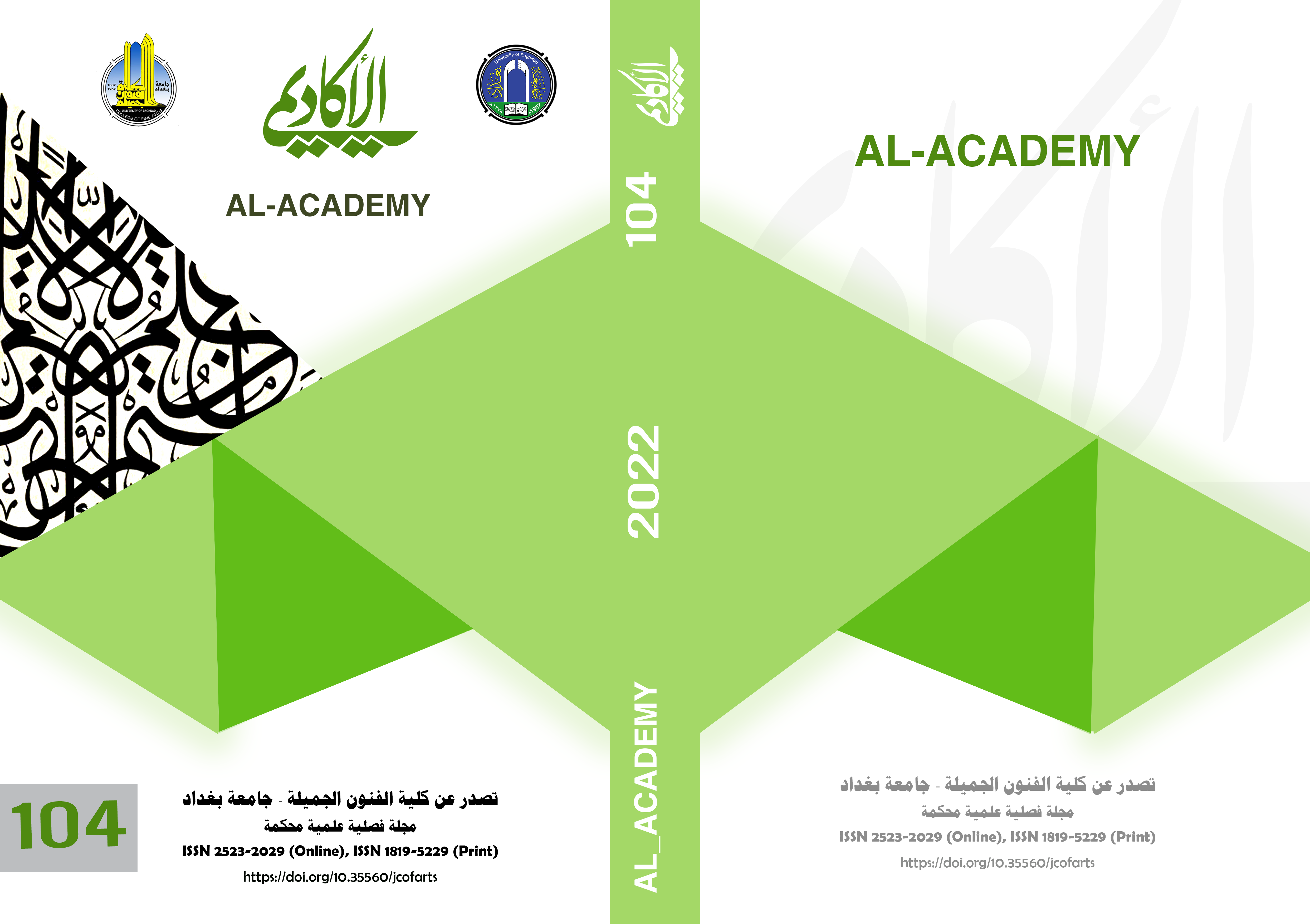 How to Cite
Taha Salem, S. . (2022). Directorial visions and sociological adaptation of heritage in theatrical performance. Al-Academy, (104), 35–54. https://doi.org/10.35560/jcofarts104/35-54
License
Copyright (c) 2022 Suha Taha Salem
This work is licensed under a Creative Commons Attribution 4.0 International License.