Violence in contemporary Iraqi drawing
Abstract
The current research (violence in contemporary Iraqi drawing) study the nature of the manifestations of violence, Kdoual effective in technical text and give these functions of the images have multiple connotations psychological symbolism, and has read the text in the light of the impact of the Iraqi social reality after the recent occupation of events and to study the impact of this stage on Iraqi contemporary painting, and this research consists of three chapters included the first chapter defines the research problem, which is illustrated through the following questions which are real problems require study and research .
Is constitute an objective treatment of the Academy of artistic representations of a phenomenon in the form of violence, whether representations of violence apply with what you stated them in the events that took place in Iraq, or are there to see in the recruitment of violence in the pictorial surface.
The current research also aims to: disclosure of representations of violence in contemporary Iraqi drawing
The search limits contained in the first chapter, it was confined to the limits of this study manifestations of violence in contemporary Iraqi drawing and for the period spanning 2003-2011.
The second chapter has included theoretical framework, which included the theoretical framework of three sections, the first section, (violence in philosophical thought). The second topic dealt with (violence in the psychological aspect), while the third section dealt with (the manifestations of violence in contemporary Iraqi drawing.
Ring discussing the theoretical framework and extraction of indicators him to take advantage of them and relied upon as a research tool in the analysis of the sample .
The third chapter has included actions related to research and community sample and research methodology, and then the sample was analyzed.
Chapter IV included the search results and conclusions as well as recommendations and suggestions, and the most prominent findings of the researcher:
manifestations of violence, sabotage and destruction and fear, deprivation and frustration worthwhile reality Ocean.
pessimist space, has implications in the sense of alienation, anxiety and aggression, sadness and vandalism and destruction.
One of the main conclusions:
colorful images of violence multiplicity of artists who have been exposed to this topic, and this means that Souranv has appeared expression of the evil inherent in the Iraqi reality.
Artist deal with reality devoutly practiced including absolute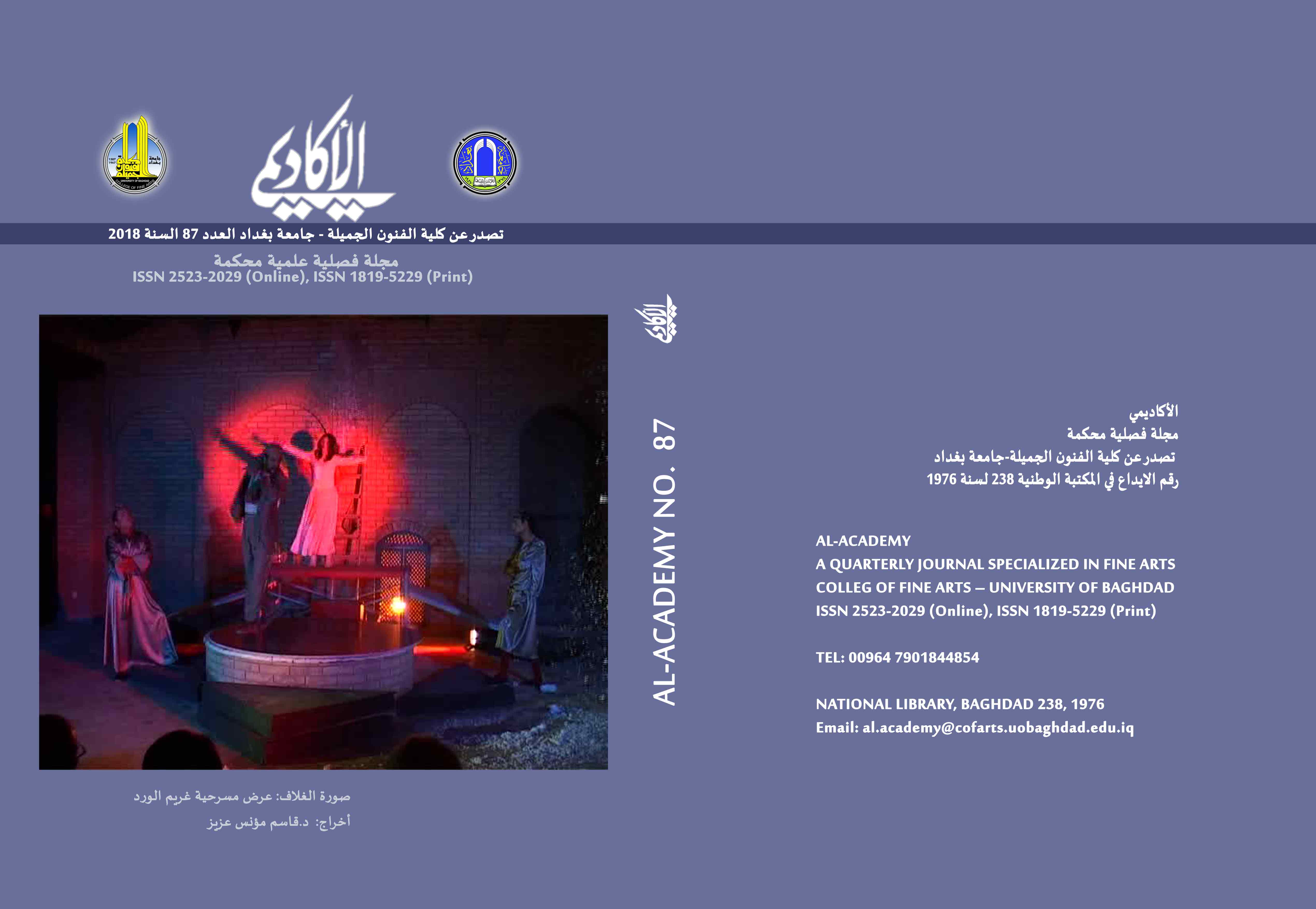 How to Cite
Kadhim Yasser, ance. (2018). Violence in contemporary Iraqi drawing. Al-Academy, (87), 29–44. https://doi.org/10.35560/jcofarts87/29-44