Style in contemporary Iraqi painting before and after the war
Abstract
What happened on the Iraq war in 2003 put the problematic about what can happen from a shift in the style of individual or collective in contemporary Iraqi art similar to what is known in the history of the modern art world.
It wanted the researcher to identify this dilemma in academic study looking for an explanation of this Alastfhamat from the entrance of the definitions shows laparoscopic destination, as it determines the address (b style in painting contemporary Aeraa before and after the war) was a comparative analysis, through a choice of two Iraqi artists who have production style known sets since before the war, in order to read the transformation that took place in art before and after their tactics, and in order to offer academic research topic has Achtlmt study on the four chapters in the order the following:
The first chapter was a general framework for research and identified him problematic research and the importance of research. Then determine the goals of the study concerned with stylistic shifts that documented a critical stage of the transformation of the trends and methods of drawing in Iraq and represents a base for future data for a period of the era did not embody and taught academic research, followed by establishing limits Find three (thematic, temporal and spatial) then then determine the terms related to title.
The second chapter: it included a cognitive or conceptual framework and indicators resulting from the academic theory of the subject. The researcher has identified implied addresses within this chapter include reading Find placed according to their frames different tariff was as follows:
Introduction to the concept of style: and it has been extrapolated about historically themed style.
representations style of painting throughout history: The third chapter has been allocated to research procedures revealed a thoughtful community and the sample selected him (four panels of two artists from then determine the search tool and methodology to determine the subsequent sample analysis.
Chapter IV of this chapter contained the results of the sample and the reflected conclusions about which of them was the analysis:
artists relied on abstraction and reduction of the details of shapes and referral to a function symbols on them.
shepherd artists foundations and element composition by relying on their own style.
Based on advanced results, the researcher found a set of conclusions from them.
represents the style of each artist's dominant power within the text Plastic.
• lies the effect of a change in the type of direct controls on the style of the artist is the dominant external frame which determines the state of the technique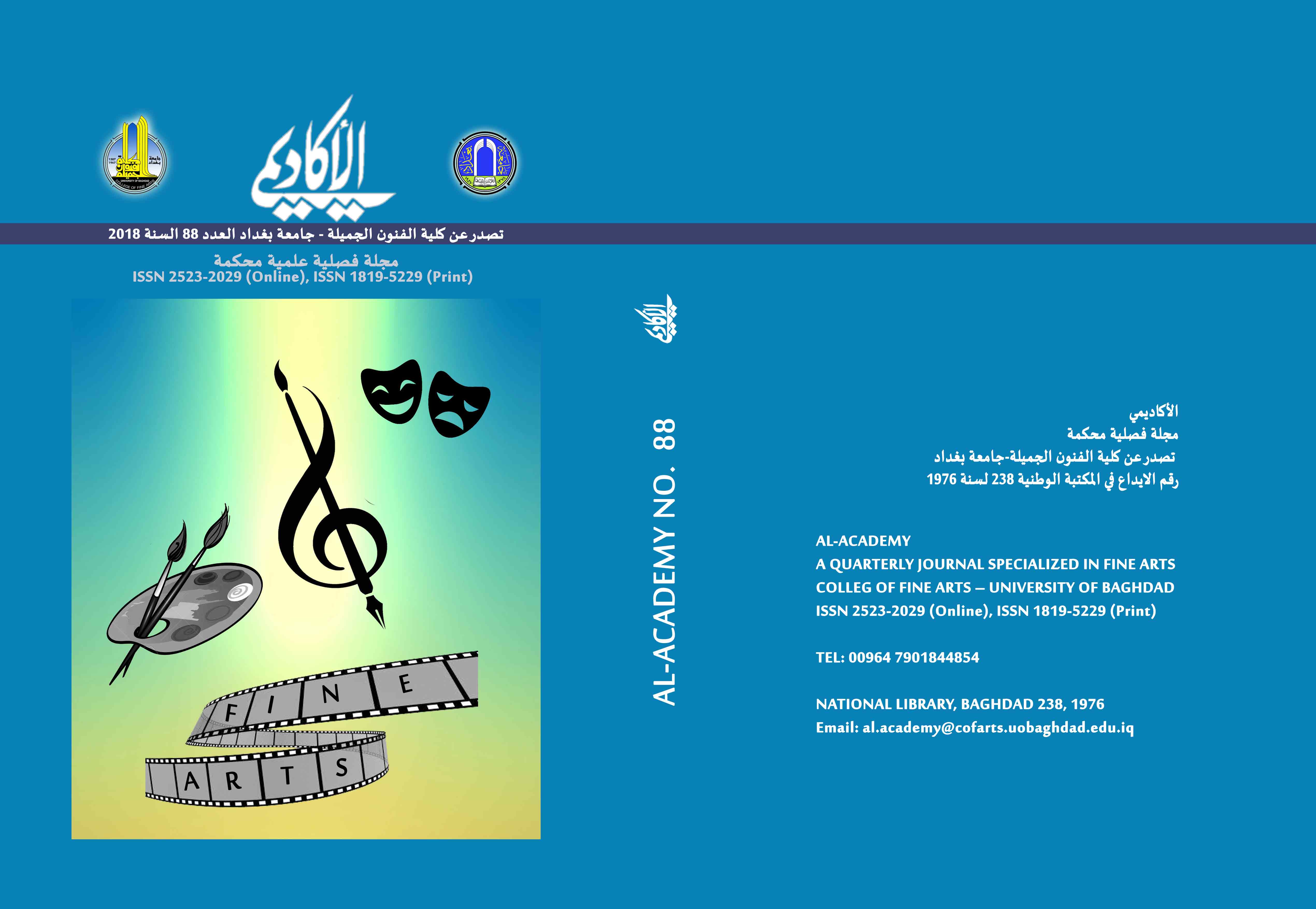 Downloads
How to Cite
Kadhim Yasser, ance. (2018). Style in contemporary Iraqi painting before and after the war. Al-Academy, (88), 25–40. https://doi.org/10.35560/jcofarts88/25-40