The Problem of Meaning in Contemporary Iraqi Sculpture
عبد الله فوزي خورشيد
Keywords:
Problematic Meaning, Sculpture
Abstract
The concept of meaning is one of the most important topics that have occupied the mind of the recipient and critic in all the arts, especially the plastic arts, where we find that the art of contemporary plastic art, in particular sculpture has multiple readings and many critics differed in terms of different reading and views of the same artistic achievement.
This research will identify the different works of contemporary Iraqi sculptors while presenting and studying their works, as well as (studying the problem of meaning) of the artistic achievements of the sculptors in particular. The various parties interested in Iraqi sculpture did not seize the problem of the objective and subjective meaning of contemporary Iraqi sculptures. Against this, we find that the research process started from the first chapter, where it deals from the beginning with (the problem of research), which starts from the important and controversial question: (Why does reading change from one intellectual direction to another?) And then the research goes to (the importance of research and its goal). Then (the limits of the search and the definition of the most important terms). The second chapter includes three sections, the first of which is entitled (The Concept of Meaning in Aesthetic Philosophical Thought) through touching on the most important objective concepts in general and the individual subjective concepts embodied in the artist himself in addition to mentioning the most important works that clarify these concepts and referring them to the philosophical direction to which they belong.  The second section of the theoretical framework was entitled (the concept of meaning in the aesthetic critical thinking) to address the most important artists and international works that illustrate the concept of global sculpture and the problem of meaning in it, as well as the critical reading of a collection of works of art, which was referred to read according to the critical direction, transmitted from the meaning. The third section of the second and final chapter will be about (the meaning between objectivity and subjectivity in contemporary international sculpture) and will talk specifically about the international and Iraqi art and its contemporary sculptors, as well as the subjective and objective thought that this research stressed as the basis of the subject of our research. Finally, the third chapter of this research will include the methodology used in the analysis of the sample, the descriptive analytical method, and then the research community and the sample chosen intentionally for the purpose of achieving the research goal, as well as the analysis tool adopted for the analysis of the sample, and finally collecting the data obtained by the researcher for the purpose of checking the data and information as accurate and correct in the analysis.
The researcher then selected artistic  achievements from the work of Iraqi artists with multiple meaning (compatible with the research) for the purpose of achieving the research goal, and then describing and analyzing them  according to the descriptive analytical method. The fourth and final chapter in this research talks about the most important (findings and conclusions) reached by this research, and then (recommendations and suggestions) recommended by the researcher, and then came the list of sources adopted in this research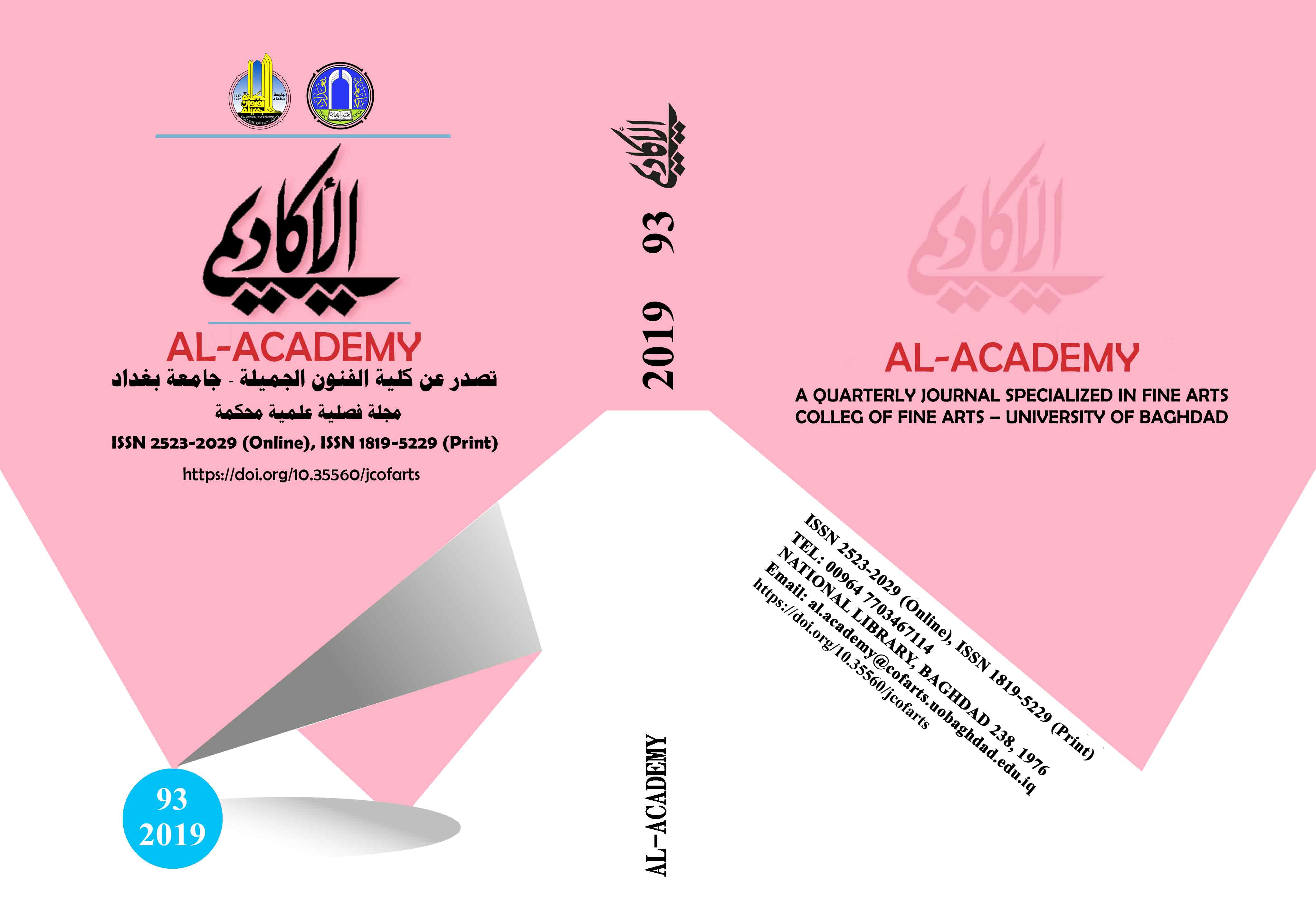 How to Cite
Fawzi Khorshid, A. (2019). The Problem of Meaning in Contemporary Iraqi Sculpture: عبد الله فوزي خورشيد. Al-Academy, (93), 25–42. https://doi.org/10.35560/jcofarts93/25-42