Aesthetic and Functional Dimensions of Environmental Waste in the Products of Students of the Department of Art Education
فردوس خضر الجوفي
Keywords:
Aesthetic , Functional Dimensions , Environmental Waste
Abstract
The practice of art is an inevitable result imposed by the circumstances surrounding the human being, as he needs some knowledge associated with raw materials, tools and methods to develop skills in the formation of elements of the work of art in new ways that give a decent artistic appearance to the work of art. Through the exploratory study carried out by the researcher, which included asking the following question to the third grade students, Department of Art Education:
What types of materials are used in handicrafts and from which sources are they obtained? Through the answers, the problem of research was founded as follows:
-Are the products of students of the Department of Art Education in the handicraft material depend on the raw materials that are not used, and re-used in artistic works bearing aesthetic and innovative character?
The importance of research has been demonstrated by the following:
The teacher of art education gets benefit in the development of his skills.
It is useful for the students of the Department of Art Education to emphasize the aesthetic and educational values ​​of the materials used in the artistic products. The research also aims at revealing the aesthetic and functional dimensions of the environmental waste in the products of the students of Department of Art Education. The research is limited to the products of the third year students in the Department of Art Education/ college of Fine Arts/ university of Baghdad, those who continue to study for 2016-2017.
 The research dealt with the concept of beauty and aesthetic function and the concept of the environment and its types and environmental waste.
The researcher adopted the descriptive analytical approach in analyzing the samples. The research tool was a test form. The Cooper equation was used to extract the percentage of agreement among the experts. The form achieved the face validity after the amendment of some items. Stability was verified using Scott's equation where two analysts were selected to analyze the results. The ratio was 85% between the first analyst and the researcher and 90% between the second analyst and the researcher. Thus, stability has been achieved. The most important results reached by the researcher were that most of the products of the students of the Department of Art Education were limited to specific raw materials in addition to that they were repeated and away from new ideas, but were characterized by accuracy, workmanship and cleanliness.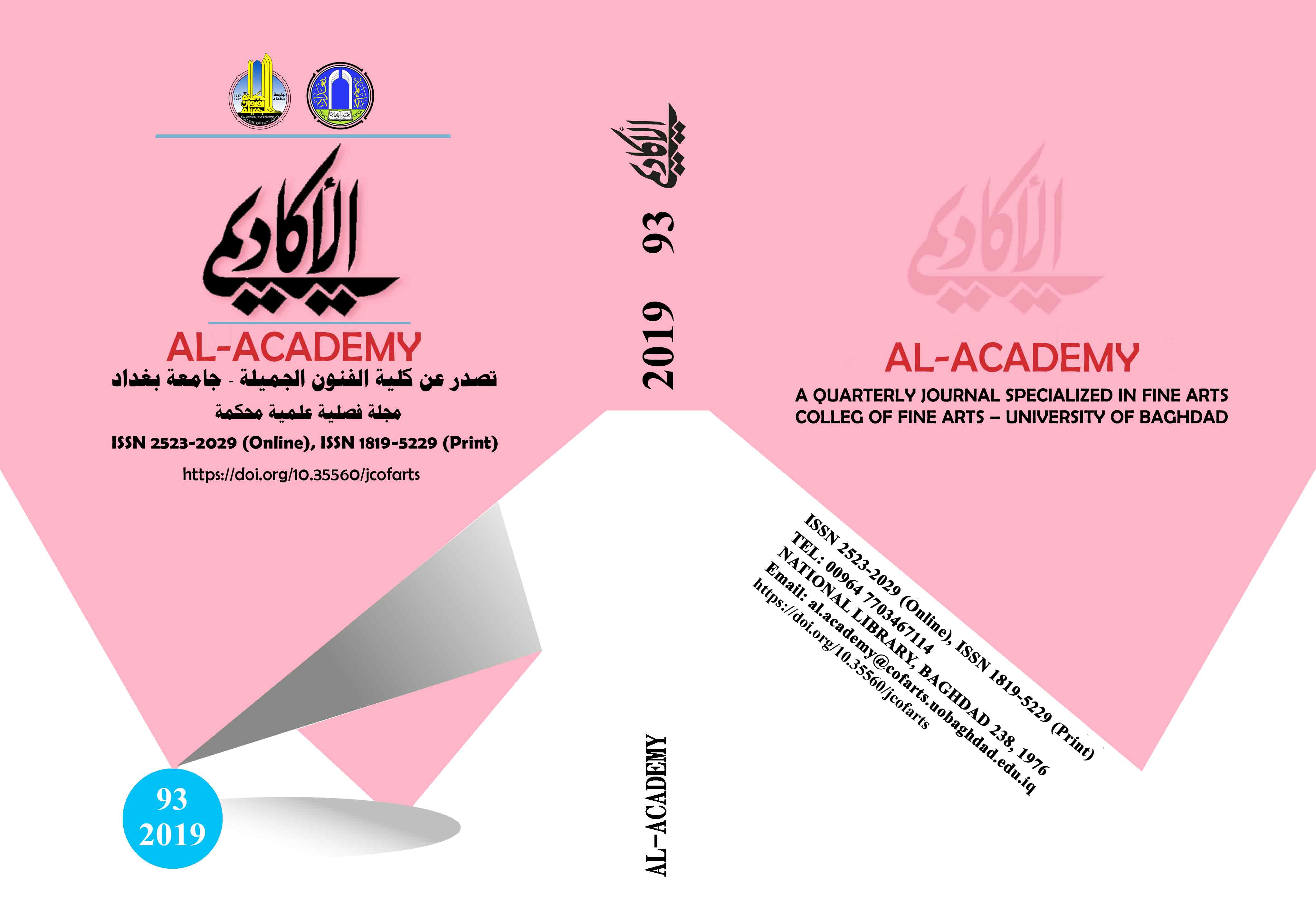 How to Cite
Khader Al - Joufi, F. (2019). Aesthetic and Functional Dimensions of Environmental Waste in the Products of Students of the Department of Art Education: فردوس خضر الجوفي. Al-Academy, (93), 195–208. https://doi.org/10.35560/jcofarts93/195-208