Abstraction between the Symbol and the Code in the Artistic Painting
سحر عبد الكاظم غانم
Keywords:
abstraction / symbol / painting
Abstract
Abstraction showed a case of distinction between art schools, in which reality was reduced using overlapping artistic elements and techniques to reach the artist's self-realization when abstracting the reality, and searching for implicit implications for the content of the artistic painting.
Building a system of relations and formulations between abstracting the reality of the physical forms and employing the symbols and codes to convey a message to the recipient who interacts with what he watches through the processes of explanation, interpretation, and linking the particles and reveal the pure aesthetics for the artwork.
Thus the current research deals with the following chapters and sections: the methodological framework consists of the research problem formulated in the following question: what are the ways of revealing the abstract art between the symbol and the code in the artistic painting?  It also included the importance of the research and the need for it in addition to the research objective.  It included the disclosure of the abstraction between the symbol and the code in the artistic painting in addition to the research limits and specification of terms.
The theoretical framework dealt with the following sections: the first section: abstraction of the artistic painting. The second section: the symbol- the code in artistic terms. The research, at the end of the chapter, came up with the indicators of the theoretical framework.
The research procedures included: research method: the researcher used the descriptive analytical approach. The research tool. Analysis unit. Research sample which was The Algerian artist (Muhammed Khuda), the Russian Artist Kandinsky and the Iraqi artist Sattar Luqman. Then the samples of the research have been analyzed. 
The results and the conclusions include:
Abstraction revealed a connection and interaction in the construction of the existing relationship between abstraction and symbols and codes when manifesting the abstract reality and presenting it in a new vision and style. That has been clearly manifested in the samples (1, 2).
Recommendations and suggestions have been set and at the end the most important Arabic sources and the translation used by the researcher have also been written down.
Keywords: abstraction, symbol, painting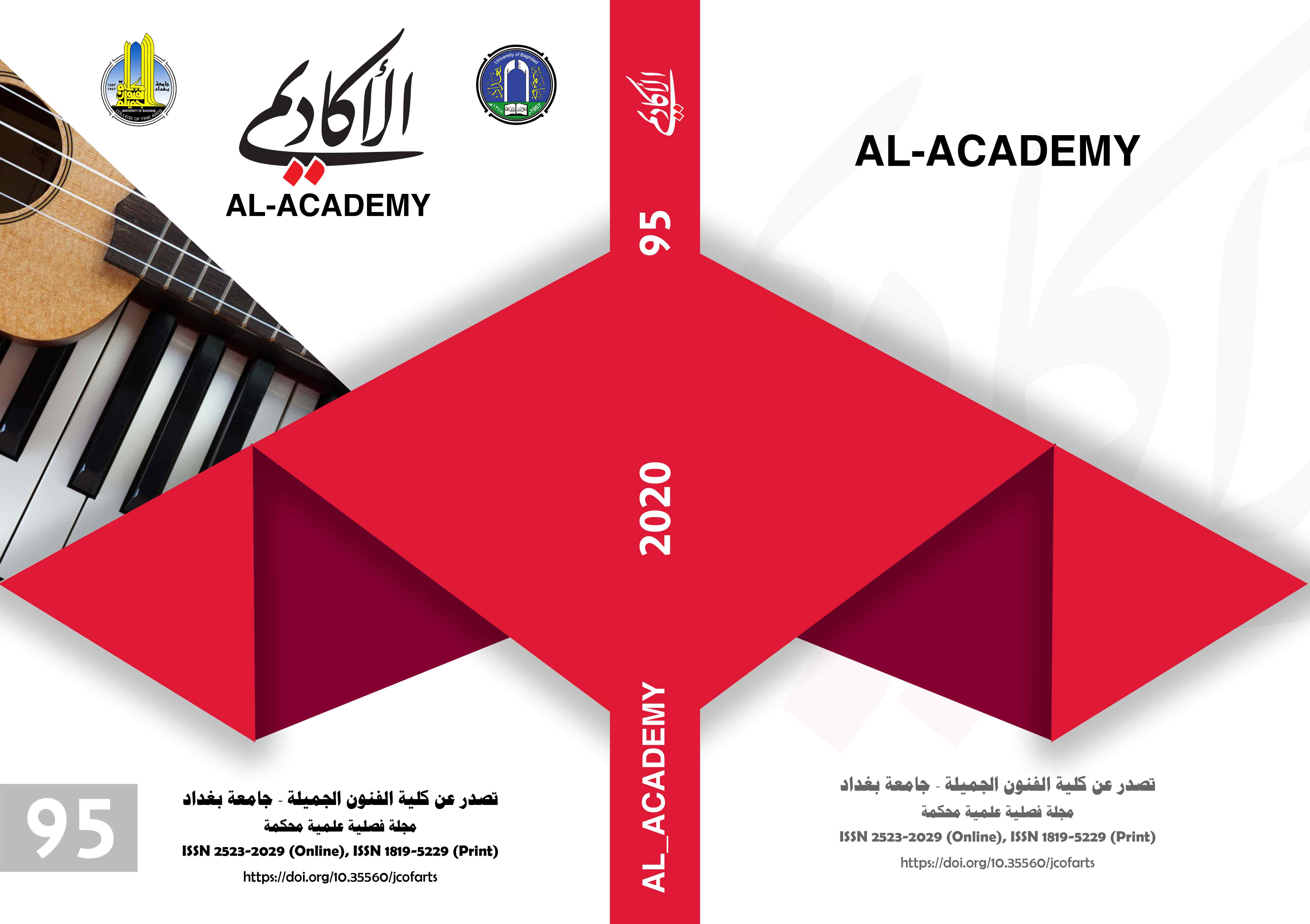 How to Cite
Abdel-Kazem Ghanem, S. (2020). Abstraction between the Symbol and the Code in the Artistic Painting: سحر عبد الكاظم غانم. Al-Academy, (95), 129–142. https://doi.org/10.35560/jcofarts95/129-142