Functional displacement in Islamic ceramics
محمد جاسم العبيدي
Keywords:
functional displacement, Islamic ceramics, foundations, decoration
Abstract
The art of Islamic ceramics is considered one of the main pillars of the art of ceramics in the plastic arts, as his knowledge of what is presented in the Islamic arts intertwined in a special way. And the Islamic ceramics are indications of fertility and the rekindling of religious ties, controversy over them, and interpretation as additions to their vocabulary. Studies in the plastic arts began to empty the knowledge towards this direction, especially its relationship to the Arabic calligraphy and specifically the Islamic decoration, which derived the first aesthetic values from calling the artist Muslim pottery and potters to inviting the Arabic letter and Islamic decoration to indicate within the theory of "displacement" the aesthetic values of it, in order to advance the "displacement" role The real thing is in the construction of the word and the decorative text, at a time when many studies have been absent from showing the individuality of Arabic crafts and Islamic decoration with the plastic art system, specifically Islamic ceramics. Accordingly, studies have become, and it is more appropriate for them to examine the concept of beauty occurring in the circle of conditions that were demonstrated by the linear and decorative displacement in ceramics, thus creating the artistic profile. And enriching it with a high poetic sense of the high melody of the component performances, as it breaks and breaks all the patterns of tradition and rules, so that Islamic ceramics, through letters and decorative additions, become full of reading consisting of the spirituality of the Muslim artist, which transcends it to the world of Arabic crafts and Islamic decoration.
And since the decoration of ceramics, the geometry of Arabic calligraphy, the determination of the dimensions of the letters and the vocabulary of the decoration, which depend on according to certain proportions and derives their aesthetics from their geometrical creation, to give us the basis of the final form of the Kufic font, in its final form and its presence on the surfaces of pottery or ceramics that need a proportional scale, and here the work becomes formal form From the images of letters, but "displacement" began to produce the method that came with it and to complete everything related to this type of Arabic calligraphy and its decoration to announce that there was no fixed scale when adding it to the arts of ceramics. Especially the Islamic one.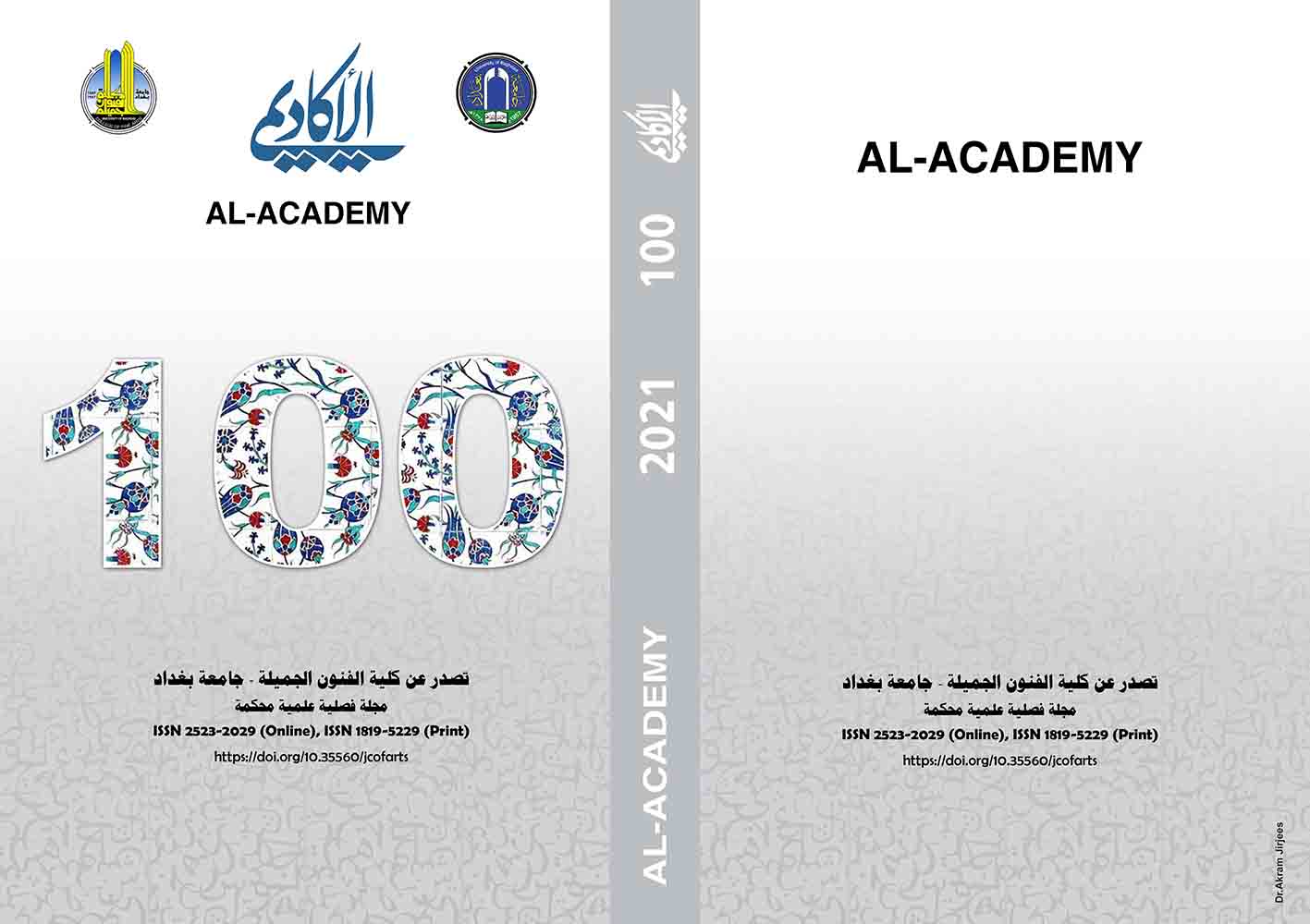 How to Cite
Jassim Al-Obaidi, M. (2021). Functional displacement in Islamic ceramics: محمد جاسم العبيدي. Al-Academy, (100), 783–796. https://doi.org/10.35560/jcofarts100/783-796