Calendar curriculum material history of civilization in the design department
Abstract
The curriculum is considered one of the most important corners for the educational process, it participates in achieving the educational equilibrium between its elements.
The curriculum of (History of the Art) in the college of Art Education / dept. of plastic art education and ceramic as the other curriculums and due to the subject of history of the art develop the knowledge, taste and experiment for art studier also this subject has a direct relation with practical educational activities like colors and growth the knowledge of the student in field of contents and symbols and evidences of meaning in old , medium and contemporary arts, due to the fact that this curriculum has been applied since long time more than four years, and there was not any improvement occurred to it as the best knowledge of the researcher, that urged her to take this subject into study in order to know the points of power and weakness existed in the curriculum, notice that the aim of the research is to determine the points of weakness and power in the subject of history of the art as the targets, items and content.
Limits of the research:
The current research limited on the following :
The accredited curriculum of history of the culture (History of the ancient and modernart) for the first grade of the dept. of design in college of fine art in Babylon University.
Procedures of the research:
Population : Comprise five teachers of subject of history of the art  who are constant on the main stuff of college of fine arts in Baghdad university and college of art education that include the society of the population wholly due to the small size of the population.
Tools of the research: -
Practical visit and interviews.
The researcher used the referendum as a tool to collect data and investigate the opinions of the teachers of subject of history of the art  .
Statistical means:- the researcher used Coper Equation to determine the truth , also she used Fisher Equation in determining the slope of each item and the mathematic mean average.
Conclusions:
The first and second aims were achieved , it appears that the powerful sides in the curriculum up to the degree of its severity in the following fields generally:
Focus on special experiences of the comprehensive growth of the student.
Items were distributed gradually in each field as to allow the integrity and orthogonal extension.
Equilibrium of the content in comprehension and depth.
The breeding experience is the main unit in building the curriculum .
Based on intact philosophy ( educational philosophy).
While the weak sides in subject of history of the art   up to its degree of severity ascendingly in all fields generally are:
Careless about level of maturity of the teacher.
Didn't care about different sides of the character of the teacher: cognitional side : emotional side, psychological and action side.
Careless about benefits of the individual.
Weak correlation between the content and needs of students.
Didn't join between theory and application nor science and work.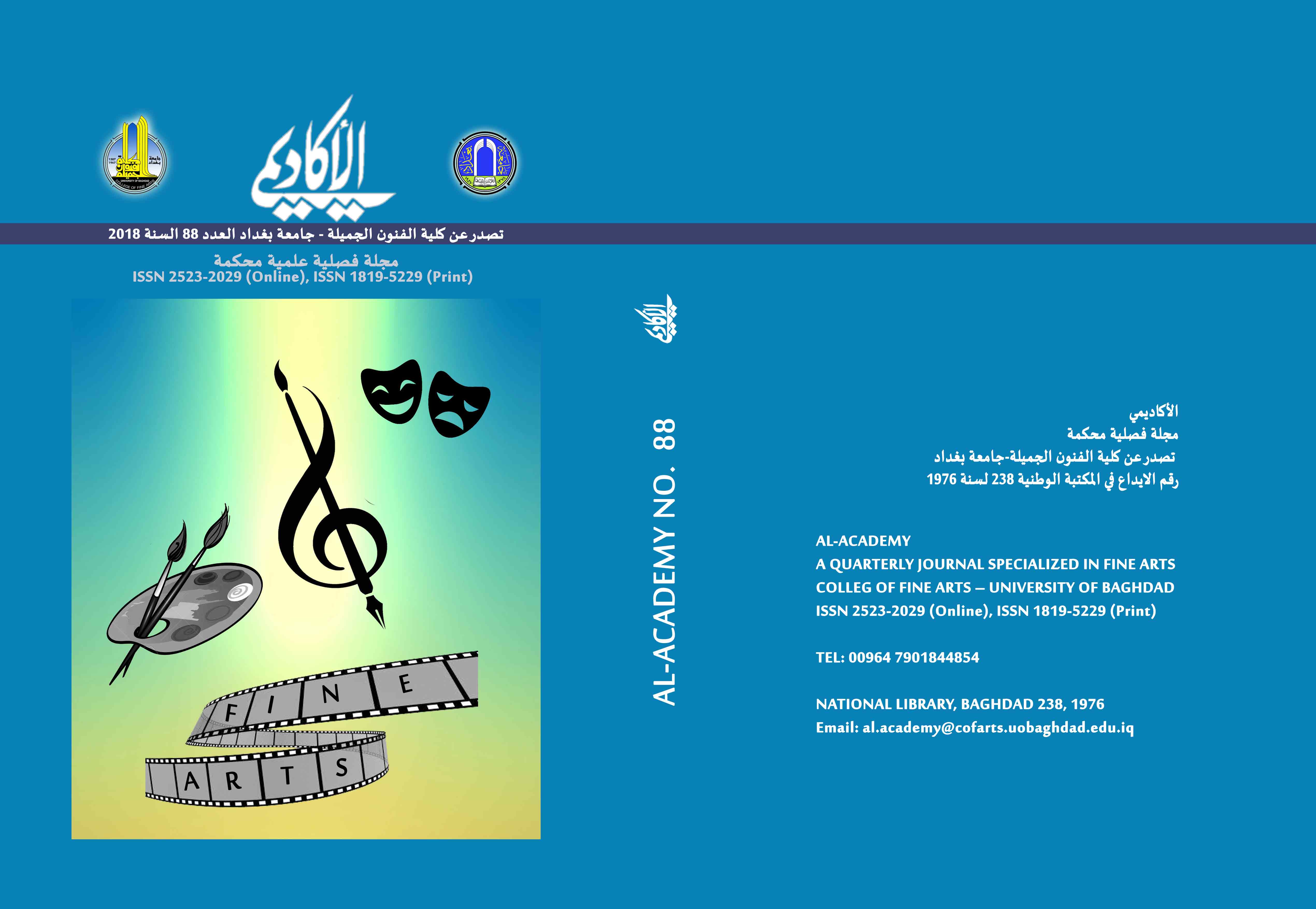 How to Cite
Abdullah Omran, F. (2018). Calendar curriculum material history of civilization in the design department. Al-Academy, (88), 155–178. https://doi.org/10.35560/jcofarts88/155-178