Space Efficiency in the Arabic Calligraphy panel
Keywords:
efficiency, space, Arabic Calligraphy panel
Abstract
 Most of the propositions, after the Arabic letter reached a position of integrity and proficiency, the calligrapher turned to the production of calligraphic formations in various aesthetic and expressive forms, investing the spiritual energies in what these calligraphic compositions show in artistic paintings. It carries a lot of meanings that are embodied in linear formations, and in order to reach these expressions and know the effective positions of space, this research is concerned with studying these technical treatments. The first chapter included the research problem, which included a question about the effectiveness of space in the linear painting, the importance of research and the temporal and spatial boundaries. As for the second chapter, it contained three sections: the first topic included the role of space in the arts and how to deal with it in the arts, the second topic the emergence of linear painting and the third topic the role of space in the linear achievement and its relationship to artistic foundations in achieving balance, sovereignty, repetition and unity, indicating the effectiveness of space and its active role In the linear achievement, the third chapter was represented by the research procedures and identification of the community, which amounted to (50) written paintings distributed among the types of paintings and from different spatial boundaries, which were characterized by an effective space representing the skill of the calligraphers of those creative paintings, five models were selected on which the analysis was conducted and the researcher adopted The descriptive approach in analyzing the samples, and the analysis concluded to a number of results that were clarified through the fourth chapter, the space has effectively contributed to achieving the balance of the painting and the rest of the elements, as the space formed a point of visual polarization and attractiveness through the organization and through its dominance in the painting, as well as the researcher recommended a set of commandments concerning Scientific research for the sake of knowledge balance and the research was ended with recommendations and suggestions that contribute to achieving the research goals.
References
Al-Kazwini, B. (1969). The Abbasid palace an analytical study of its wall-ornaments Durham University].
Al Saadi, A. S. F., Banana, W. J. H., & Delly, K. A. (2020). SPATIAL CONTRAST OF THE CHARACTERISTICS OF ICONIC COMPOSITIONS IN THE THULUTH CALLIGRAPHY. PalArch's Journal of Archaeology of Egypt/Egyptology, 17(10), 594-607.
Aldoregy, Q. E. A. (2021). CONCEPTUAL MODELING IN CONTEMPORARY IRAQI FINE ART COMPARATIVE STUDY BETWEEN EXPRESSIONIST ABSTRACTION AND SYNTHETIC ABSTRACTION.
Atkey, R. (2018). Syntax and semantics of quantitative type theory. Proceedings of the 33rd Annual ACM/IEEE Symposium on Logic in Computer Science,
Banach, S. J., & Ryan, A. (2009). The art of design: A design methodology.
Bestley, R., & Noble, I. (2016). Visual research: An introduction to research methods in graphic design. Bloomsbury Publishing.
Chanen, B. W. (2007). Surfing the text: The digital environment in Mark Z. Danielewski's House of Leaves. European Journal of English Studies, 11(2), 163-176.
Druin, A. (2002). The role of children in the design of new technology. Behaviour and information technology, 21(1), 1-25.
George, A. (2017). Islamic calligraphy and its spread across Asia.
GHAZWAN, M. E. (2019). Intellectual and historical References and their reflections on contemporary applied arts carpets as a model. International Journal of Multidisciplinary Studies in Art and Technology, 2(1), 12-20.
Hassan, A. F. J., Bian, X. Y., & Xin, X. Y. (2013). Artistic Influences Analysis of Iraqi National Costumes. Advanced Materials Research,
Hassan, F. J. (2022). The Design Realation and the Role of it Making the Idea for Fashion Design. Online Journal of Art and Design, 10(2).
Hassan, F. J., & Kakhel, A. M. Theory of Sustainability and Creativity & its Relationship to Environmental Art & Technological Development in Islamic Architecture in Bosnia and Al-hersic.
Hiep, P. H. (2007). Communicative language teaching: Unity within diversity. ELT journal, 61(3), 193-201.
jamal Hassan, F. (2018). Achieving an Iraqi model in contemporary fashion design. Al-Academy Journal(88), 245-260.
Luo, G. (2021). The Application of Contemporary Fiber Art in the Construction of Plastic Art Space. 7th International Conference on Arts, Design and Contemporary Education (ICADCE 2021),
Manzur, I. (1997). Lisan al-'arab.
Meggs, P. B., & Purvis, A. W. (2016). Meggs' history of graphic design. John Wiley & Sons.
Moustapha, H., & Krishnamurti, R. (2001). Arabic calligraphy: A computational exploration. 3rd International Conference on Mathematics and Design,
Ni, P. (1999). Moral and philosophical implications of Chinese calligraphy. Grand Valley Review, 20(1), 8.
Roxburgh, D. J. (2003). On the transmission and reconstruction of Arabic calligraphy: Ibn al-Bawwab and history. Studia islamica(96), 39-53.
Sattarnaejad, S., & Parvin, S. Manifestation of Islamic Decorative Arts in the Architecture of Gonbad-e-Kabood and Gonbad-e-Ghaffariyeh.
Shafiq, J. (2014). Architectural Elements in Islamic Ornamentation: New Vision in Contemporary Islamic Art. Art Des. Stud, 21, 11-21.
Smith, G. F., & Browne, G. J. (1993). Conceptual foundations of design problem solving. IEEE Transactions on Systems, Man, and Cybernetics, 23(5), 1209-1219.
Stockinger, B., Barthlott, T., & Kassiotis, G. (2004). The concept of space and competition in immune regulation. Immunology, 111(3), 241.
Sun, S. (2015). Inspiration from the Structure of Calligraphy in Modern Format Design. 1st International Conference on Arts, Design and Contemporary Education (ICADCE 2015),
Tyrrell, H. G. (1912). Artistic bridge design: a systematic treatise on the design of modern bridges according to aesthetic principles. Myron C. Clark Publishing Company.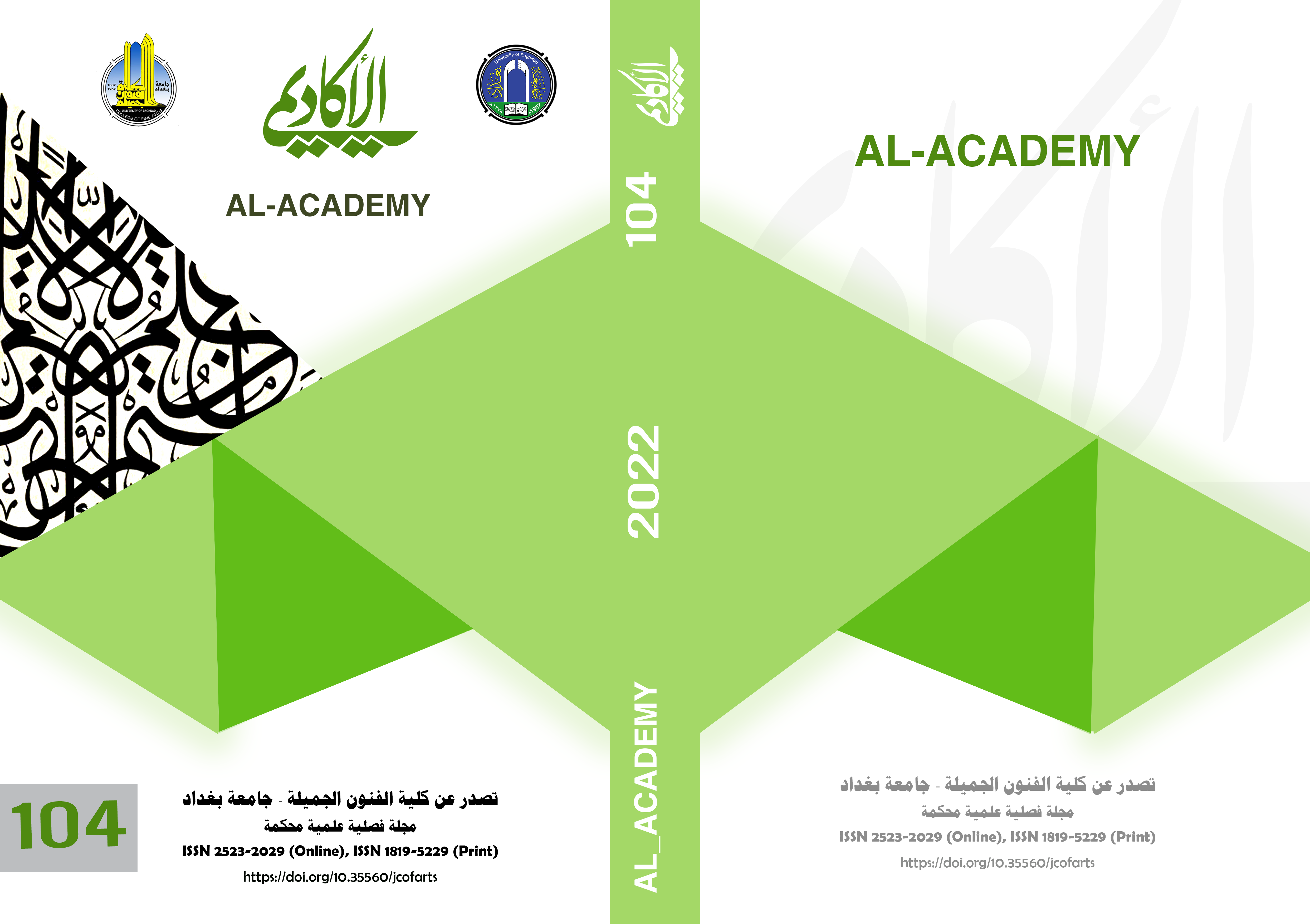 How to Cite
Kadim Sibahi , H. ., & hassan, furat jamal. (2022). Space Efficiency in the Arabic Calligraphy panel. Al-Academy, (104), 73–90. https://doi.org/10.35560/jcofarts104/73-90
License
Copyright (c) 2022 Haider Kadim Sibahi , furat jamal hassan
This work is licensed under a Creative Commons Attribution 4.0 International License.